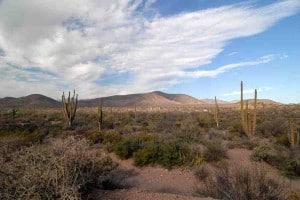 Don't miss a thing everyone. Clint and Loni are on the way to the Baja, where the sea meets the sky.
What adventure awaits?
Follow SSC here to get the latest, but also make sure you get updates in real time, including photos, and what's happening on the ground by following their Tweets.
Follow Loni and Clint on Twitter!
Clint wants me to let everyone know he's got Moto Droid in hand and should have informative updates on battery life, Verizon in Mexico, camera quality, etc. Stay tuned! We may even try to dial up a live feed here on SSC… maybe… it depends on what Internet they can get down in Loreto.