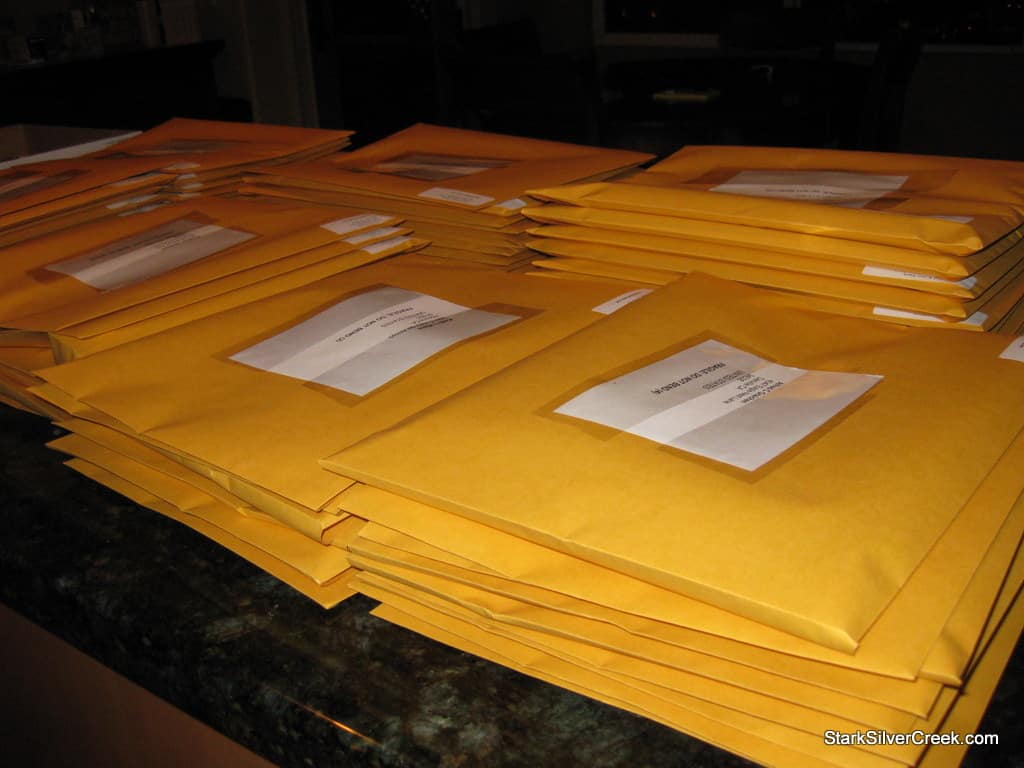 The order of calendars from the printers arrived on Friday afternoon in two medium-sized, extremely heavy cardboard boxes. Friday evening and Saturday morning became a frenzied place here at StarkSilverCreek central as we packed orders of calendars, printed labels and shipped out approximately 65 orders of calendars totaling 187 individual calendars. If you ordered calendars and requested they be shipped, your order has gone into the mail this Saturday and was picked up by USPS at around noon.
For those that requested pickup, I will be emailing you shortly to make arrangements. I know of one order which we will bring to Loreto and we will bring a couple more calendars for those that expressed a desire to purchase while in Loreto. Be forewarned that stock is limited (total of ~10 remaining) for this year so please email loretocalendar@starkinsider.com if you are interested in calendars. It will be first order, first allocated!

Currently, we have raised $1,984 from the sale of 187 calendars and a $200 donation from the Alberta Loreto Bay homeowners group. This works out to an average donation amount of per calendar was $9.54. All of these net proceeds will go to benefit the children of the Internado School in Loreto.
One thought for 2011 Loreto Calendar is I do want to move to a pre-order model as we have done this year as it ensure we order the right quantity to fulfill all demand and also take the greatest advance of volume discounts with calendar printing companies so that we maximize what can be donated to the chosen charity. I'd like your thoughts on this. It will also make the administration of this easier so that we can focus on possibly expanding the program to other items such as mouse pads and mugs.
Also, I know some of you have volunteered to help out with this effort and for 2011 I will take you up on it. Mainly because we hope to grow this program every year and I don't want to be the bottleneck and also because after packing up 65 orders over 5 hours, I realized that some help would be much appreciated.
This year, if there are a lot more orders for calendars, I will consider doing a reprinting if it makes sense.
I really hope you enjoy the calendars as much as we as a community had fun creating them. I will be in Loreto and hope to take you on an experience visiting the Internado school for those that can't make it down anytime soon.