Truvy's Beauty Parlor provides the perfect sanctuary for six women who share and support each other in the joys, tragedies and curve balls that life throws at them, all while maintaining perfect hair.
Hillbarn Theatre's production of this Robert Harling classic Steel Magnolias is true to the spirit of the piece; heartwarming and full of small town charm.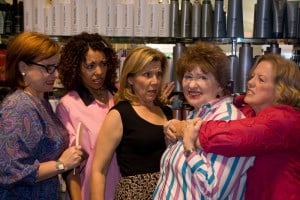 Shelby (Alexandra Bogorad), daughter of M'Lynn (Mary Moore) is bubbly and strong-willed from choosing the colors of her wedding to the decision to have a child even against doctor's recommendations.
Some of the funniest lines are delivered by Ouiser (Janice Leone) and Clairee (Carolyn Ford Compton) who provide community and friendship in their own unique ways to the mother and daughter as they go through life's milestones. Truvy (Damaris Divito) and Annelle (Heather Galli), the owner and new hire respectively, at Truvy's salon tend to the hair of their clients while providing a place for trust and friendship to blossom.
There are also colorful men in this story, however, they are only talked about and never heard; except the gunshots and dog barks that reverberated throughout the theater, perhaps a little too loudly in spacial relation to the beauty salon.
The set, thanks to Peninsula Beauty who donated the equipment, is almost an exact replica of a small town salon down to the hair washing stations. I was very surprised to see that real water was used to wash hair during the play. It did add nice realism to the production.
The lighting was also true to a real beauty salon in that it was bright. However, in this case, I thought a more liberal, artistic flare could have been introduced to reflect the mood of the play rather than the literal interpretation of its location.
The tribute to women who exemplify strength and beauty resonates with me. However, the way that it is depicted in Steel Magnolias left me yearning for deeper emotional relevance and connection to the material. That, or some song and dance to keep the momentum of this play in the sheer entertainment realm.
Noteworthy

True to the stage set of this play, you can buy $1 raffle tickets to be entered into a drawing for a gift basket of beauty supplies.
Chocolate cookies are only $1.50 at intermission and coffee is by donation.
A little know fact: One of Loni's ultimate fantasies is to own a hair washing station at home so she can get her hair washed by Clinton Stark on a whim.
Hillbarn is the 6th oldest theatre of its kind in the United States and is currently in its 68th continuous season of programming.
Steel Magnolias was a smash 1987 off-Broadway play, and in 1989, was made into an Oscar-nominated film starring Julia Roberts.
Looking for a fun night out on the town? Plan a girls night out at Steel Magnolias! Get a "Girls Night Out" pack of four tickets plus wine at intermission. Call the Hillbarn Theatre box office for details.
Playwright Robert Harling wrote Steel Magnolias in just 10 days following the surprise death of his sister.
Steel Magnolias
Hillbarn Theatre
October 23 – November 8, 2009
Tickets $17 to $34