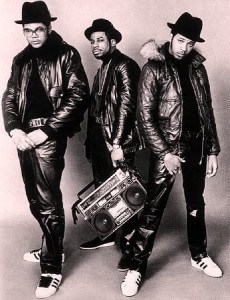 Walk this way to the next musicians storming the Broadway stage!
This time, it's famous 80's hip-hop group Run-DMC. No stranger to cross-overs, their ground-breaking hit "Walk This Way" recorded with Aerosmith, fused hip-hop with hard rock and catapulted the group to stardom.
Sneaker companies everywhere celebrated.
Today it was reported the group is working with Tom Cruise partner, Paula Wagner (Mission Impossible), on an original musical that will chronicle their career.
From Broadwayworld.com: Wagner remarked, "I feel their story lends itself perfectly to the stage. This project has been a passion of mine for some time and I couldn't be more thrilled to be working with them."
Who's next? Maybe Miley Cyrus, Taylor Swift… or better yet: a part-burlesque, part-camp, part-comedy musical starring Britney Spears?