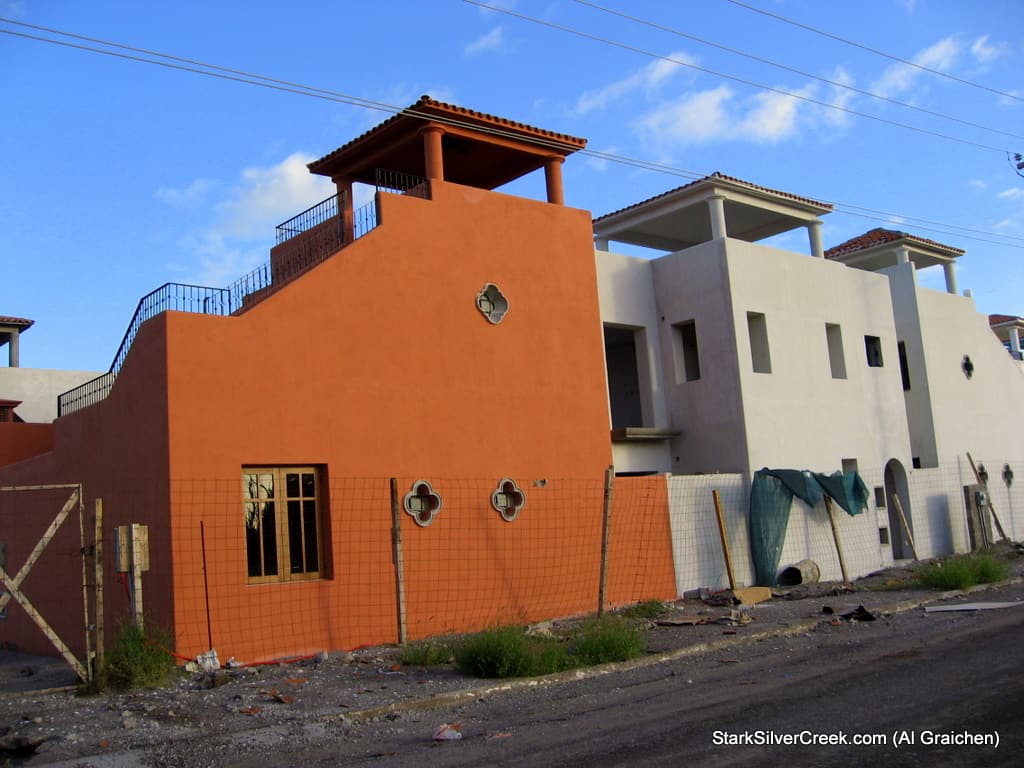 The early morning sun was a bit warmer today (Saturday). The humidity was up a bit, but not too bad. We decided to walk the golf course around Agua Viva starting on the beach side for a change. Just a few steps onto the course and we realized that the mosquitos were out in force.
Luckily I've started to carry Off Wipes in my camera bag. They were definitely needed.
There were a lot of workers in AV this morning. It seems they are taking advantage of every available working hour.
The crews were scattered throughout the complex so it was hard to get a good count, but there appeared to be many dozens of workers in almost every section.
The estuaries are suffering a bit, still, from the hurricane. The water is up over the banks in some places on the side closest to the golf course. It is especially apparent where the estuary walls still need to be raised 3-4 more feet to "construction grade."
Tonight, we got to sample a bit of cooking from Loreto's newest "in home chef," Felipe. The hors d'oeuvre's were a dip of Chocolate Clam, cream cheese with tyme on toast. Incredible. Main dish was Parrot Fish with Asparagus and mushrooms. Everything was prepared to perfection AND the kitchen was spotless at the end of the evening. I think he will be in great demand as his name gets known. Already he's booked for a number of days into November. I understand that one engagement is to provide dinner for up to 35 over an extended period of time.
We're hoping to get up to Tabor Canyon tomorrow as there's still a lot of water running.