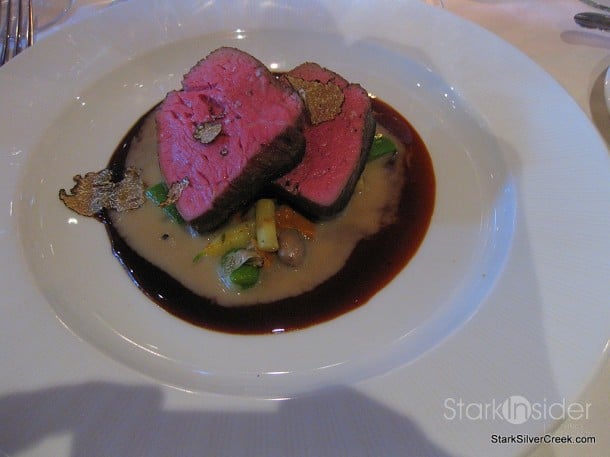 Domaine Chandon is one of the only wineries which has an upscale restaurant selected as one of ForbesTraveler.com's Top Ten Romantic Restaurants in the USA (Feb. 3, 2009). étoile Restaurant located in the heart of a winery with French roots and a heritage for sparkling wines is frankly destined to inspire romance and perfect pairings of wine and delectable cuisine.
I had the fortune to forge past a stream and a field full of mushroom sculptures, climb a set of stairs all of which led me to the unique, arched building which houses the culinary delights of étoile Restaurant.
The three course meal started with a Sweet White Corn Soup with dungeness crab and herbs. The soup was creamy with just the right balance of herbs to highlight the sweetness of the crab meat. Paired with this course was Newton Unfiltered Chardonnay 2006 and the O'Brien Estate Chardonnay 2007.
The second course was Roast Beef Tenderloin with summer legumes, chanterelle mushrooms and Umbrian black truffle. The beef was cooked just the way I like it medium-rare and so tender you could slice it with a butter knife. I love mushrooms and the shavings of truffle was divine. The main course was paired with an array of fabulous wines:
Domaine Chandon Pinot Noir La Riviere 2006
Louis M. Martini Lot No. 1 Cabernet Sauvignon 2005
Louis M. Martini Cabernet Sauvignon 2005
O'Brien Estate Merlot 2006
Parry Cellars Cabernet Sauvignon 2005
The winemakers/winery owner from each of the wineries were at our dinner table so the experience was not only enhanced by great pairing of wine and food, but also with conversation about the style and care that goes into producing such high caliber wine. I had the pleasure of sitting next to James Kress, Winemaker for Domaine Chandon.
Dessert was an ever so decadent Valrhona Chocolate Pate with summer berries. The embellishments that defied gravity gave this dessert visual interest. This course was paired with Domaine Chandon's Carneros Pinot Meunier 2006.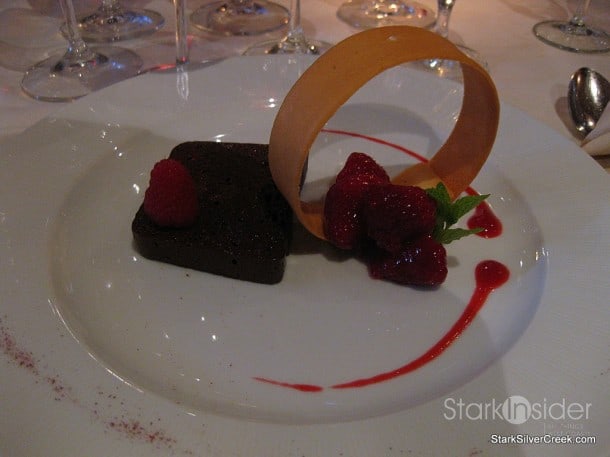 The wines served were truly special and when paired with such delectable dishes, the evening does make one feel like the little bubbles that float up in champagne.
"Dreams are like stars…you may never touch them, but if you follow them they will lead you to your destiny."
Makers of a truly magical evening:

étoile Restaurant
Domaine Chandon
Louis M. Martini
Parry Cellars