Join us (and bring a friend) this Thursday, Sept 10 for a lively Talking Art conversation in the gallery, 7-9pm
Facilitating Ideas Through Ideas: The Role of Art, Artists and Curators in Our Lives and Times.
Be a part of conversation with the ICA curatorial staff, NextNew:Green artists, Ice Floe artist Christel Dillbohner, and other community members for an evening of dialogue in the gallery.
Take a Fall Art Making Class at the ICA Print Center!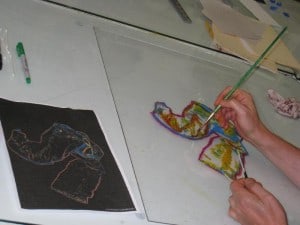 September workshops for novices and experienced printmakers
Copper Etching: Thurs thru Sat, Sept 10-12, 10am – 4:30pm, $400<
Anyone can make an etching! Join Fanny Retsek and learn how to prepare copper plates, apply grounds, etch, and print. Experienced workshop participants can create multiple plate color etchings or develop independent projects.
Trace Monotype & Chine Colle: Sat & Sun, Sept 26 & 27, 10am – 4:30pm, $300
This 2-day workshop will focus on the beauty of the drawn line combined with the spontaneity of the multiple-drop monotype. Day one will concentrate on mark making and drawing to make trace monotypes on Japanese paper. On day two, we will chine colle the trace monotypes in combination with multiple layers of monotype to create beautifully finished prints. Instructor: Jenny Robinson
October workshops for novices and experienced printmakers
Relief Printing: Sat & San, Oct 10 & 11, 10am – 4:30pm, $350
Learn to make relief prints using wood, linoleum and plexiglass. By the end of the weekend you will be able to print multiple colors on one plate as well as layer multiple plates to create a finished color relief print! Instructor: Evelyn Klein
Monotype with Drypoint, Stencil and Photo-Transfer: Sat & San, Oct 17 & 18, 10am – 4:30pm, $300
Explore some of the many approaches to creating monotypes with international master printer Glen Rogers. This workshop will teach the techniques of direct painting, layering, drypoint, stencils and transfers.
Open Access
Experienced printmakers – use the ICA Print Center and all it has to offer for just $15/hour!!!
Sept 13 and Oct 4
Call 408-283-8155 or email Fanny Retsek at the Print Center for more information or to register.
*********************************************************
Coming very soon…
The 29th Annual Fall Art Auction at the ICA
An exhibition and live auction of works by more than 100 Bay Area contemporary artists.
EXHIBITION: October 2 – October 24
AUCTION: Saturday, October 24
Tickets on sale now!
$40/ticket by October 24
$50/ticket at the door
View the online auction gallery and return often to view new artwork.
Special Exhibition Gallery Hours
October 2 – October 24
Monday – Thursday, 10am-5pm
Friday, 10am-8pm
Saturday, Noon-5pm
Free Admission