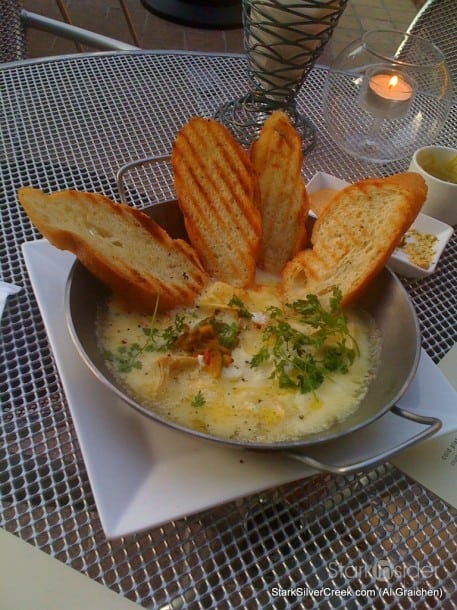 The Blackhawk Plaza is being renovated and with the change, three new restaurants are coming into being. Stomp is the first to open. It features a small plate (tapas like) sharing menu and an excellent wine list.
The location is in the middle of the Blackhawk Plaza overlooking the central fountain. The outside dining area has been expanded and includes a large fire place. "Space heaters" are available for cooler evenings.
Seating is somewhat limited both inside and out, but there are about 8 areas that can hold 4 people each in both the inside and outside dining areas.
We started with hummus; fresh fava bean, with Moroccan spices and crispy pita bread with cured olives ($7). Next came Cassoulet of baked French cheeses with roasted garlic squash blossoms and chervil on crusty baguette slices ($8). Shrimp empanadas with avocado followed ($9) and we finished with Moroccan spiced flank steak with spicy mustard aioli and house pickled onions ($8). All were excellent.
As there is plenty more in the menu, we'll be certain to head back to try more.