I have a friend who produces absolutely stunning smoked salmon and I wanted to try his recipe. I have a gas barbeque (gasp!) which really doesn't lend itself well to smoking. Yes, there's a smoking tray but you can't beat the aroma of a real mesquite wood fire. Susan wanted to have some Smoked Pork Tasso for a recipe she had her eye on which gave me the perfect excuse to get a smoker!
Smokers come in a range of prices from the basic steel can to automated smokers with special wood pucks.
I really didn't want anything too fancy at first as I wasn't sure how often I would use the unit. I can tell you, though, once you start smoking you won't want to stop!
After perusing Amazon for a while I decided to go with cheap: the Brinkmann Charcoal Smoker and Grill. It consists of basically 7 pieces: a bottom stand containing an ash/coals pan, a middle section with a door that holds a water pan and two grills, and a top cover with temperature gauge. Assembly was less than 1/2 hour.
I also ordered some pecan and mesquite chips for smoking and a Weber Chimney Starter to get the coals going quickly. It's absolutely essential that you have a good thermometer with a remote probe and alarm–Susan deigned to allow me to use the one from the kitchen that I'd gotten her for Christmas several years ago (a Polder all-in-one timer/thermometer).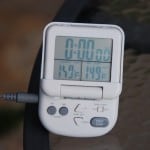 Tom, my buddy from Connecticut, was good enough to share his Drunken Salmon recipe with me. For 1.5 lbs of salmon fillets:
1/4 cup of vodka or rum
1/4 cup of brown sugar
2 Tbsp mixed pickling spice
2 tsp dill seeds
3 Tbsp kosher salt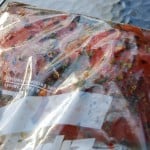 Start at least 2 hours before you plan to smoke the fish. Bruise the pickling spice and dill seeds with a mortar and pestle. Combine all marinade ingredients in a ziploc bag big enough to hold the fish. Cut the fish into 2-inch wide strips. Place them in the bag and seal after you've squeezed out all the air. Roll the bag around to distributed the ingredients over the fish. Refrigerate for up to 8 hours, turning over half-way.
When you're ready to smoke the fish take it out of the refrigerator and let it come to room temperature.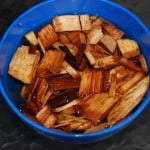 At least 1 hour before hand, soak several handfuls of wood chips in a bowl of water.
I usually keep some in the freezer in a ziploc bag so that I can pull them out at any time for quick use. There's lots of opinions about which wood produces the best smoke: I like pecan and mesquite and I've heard that cherry, hickory, or alder work well too.
Crumple up 4-5 sheets of newspaper and cram them into the bottom of your chimney starter. Fill up the starter to the top with mesquite charcoal (best) or hardwood briquettes.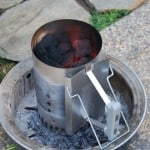 Don't use self-starting briquettes or anything with pine or other softwoods. The resulting taste will be nasty. Let them get good and hot over the next twenty minutes before pouring into the bottom of the smoker.
I like to fill the water pan up to about 2/3 full with water, beer, or leftover wine. The idea is that the resulting steam will keep the salmon moist even though it is being cooked by the heat and smoke. Insert the pan of liquid and put on the bottom grill over top of the pan.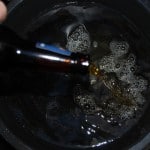 I usually buy some sweet Italian sausages for the bottom grill, where it is a little hotter, as the top grill is more than enough to hold the fish. Put on the top grill and arrange the salmon fillets on top. Insert the thermometer into the center of the thickest piece of fish and let the wire trail out of the smoker. Put the cover on top and make sure it is well sealed. Now things are starting to cook!
Drain the water from your smoking chips. Open the side door on the smoker (watch out, it might be hot!) and toss in half of the soaked chips. Close the door and you should start to see nice thick smoke start to pour out of the top of the smoker.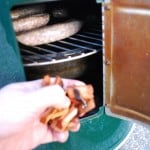 Plug in the thermometer and set the alarm to 150 degrees. It should go off in about an hour or so.
In the mean time, prepare a tray with crackers and mix up a mayonnaise to use as a spread. I like to put a generous helping of bittersweet smoked paprika into the mayo to spice things up.
After half an hour, if the smoke has thinned,  add the rest of the chips to the smoker.
Once the alarm goes off, pull out the salmon and arrange on your tray and serve with the crackers and mayo. It won't last long!
I've managed to smoke salmon, brisket (still not happy with this), chicken stuffed with gouda or figs and goat cheese, and rock salt. The salt you can put in a little aluminum foil pie plate and it takes on the smoky flavor. Put it into your salt grinder to add a smoky accent to any meal.