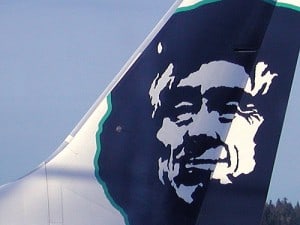 I started receiving emails this week from Loreto Bay homeowners who had been contacted by Alaska Airlines to reschedule their flights from the San Francisco Bay Area to Loreto, BCS onto Horizon flights. I personally had not been notified by Alaska Airlines of any changes, but amidst the concerns, I decided to check for myself.
I logged into Alaska Airlines' website and tried to verify my itinerary and was promptly informed, in red letters, to call customer service. When I finally found time during the day to call them, I braced myself for an unpleasant experience.
Ring….Ring…[Alaska Airlines welcome message]…
I went through two menu selections in order to be passed through to a "live" customer service representative. Just when I thought I would have to wait for 15+ minutes to get to an agent, a human voice answered on the other side.
I was thoroughly shocked.

I had to make sure that indeed a human being did pick up the line and not a computer telling me to wait further. The phone call was very pleasant, the service representative was able to quickly rebook me onto another Alaska Airlines flight that was operated by Horizon for the LAX->LTO leg which only required about a half hour shift in schedules. I was relieved as our November visit to Loreto is a very special visit as my mom will also be accompanying us.
Anyways, just thought I'd share a fantastic customer service experience since most times, airlines receive complaints.
Thank you Alaska Airlines for a wonderful experience and providing flights between the San Francisco Bay Area and Loreto, BCS (LTO).