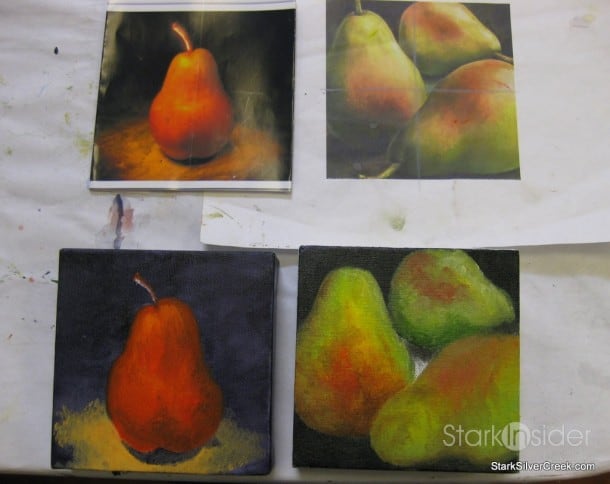 If you have been following me on my twitter feed (@lonikaostark), you would know that this past Friday, I signed up for oil painting lessons at the local San Jose University Arts location with artist Lee Hartman. Today was my first lesson where I started two pear paintings on 5″x5″ canvas.
The good news is that Lee Hartman, the art instructor, did not kick me out of the class and in fact I think she was somewhat pleased with the progress I made in my very first lesson. It will be a while before I tackle a 4'x4′ oil painting, but I don't think it is an unrealistic goal.
This first class I purchased my first set of art supplies and painted the foundation of my two pear pieces. Next week, I will add another layer to these paintings to bring out more detail and structure.
I did tell Lee I never painted before which is a bit of a lie since I had a couple of lessons in high school art class. However, that was so many years ago that I thought it was best to under-represent.
This oil painting experience is so much nicer than what I recall from high school because of the quality of the materials I purchased. It reminded me of my camping trip to Alaska where I went to REI and bought top-of-the-line camping equipment. The camping trip was incredibly enjoyable compared to the trips I made with mediocre camping equipment.
The tools do not make a great master painter, but it sure helps make the experience more enjoyable. Until next week dear reader.