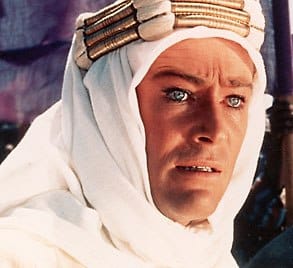 Deserts and orchestra have never gone together better. Actors have never looked so stylish. And epic movies like Lawrence of Arabia are just not made anymore.
Ahh, the glory days of cinema: Ben-Hur, Spartacus, Lawrence of Arabia, and later, Godfather.
Where have the epics gone?
Thankfully, the world has movies like Lawrence of Arabia: cinematic art (in Super Panavision 70 no less).
Soak in this scene below with one of the all-time great scores by Maurice Jarre as the intrepid T.E. Lawrence journeys (mostly left to right) amid the Arabian desert tribes.
If you've never seen the film, it's a special experience. Just ask Steven Spielberg, it's his all-time favorite.