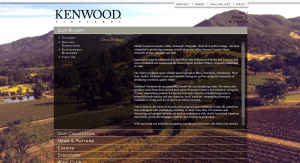 KENWOOD (SONOMA VALLEY), CA, September 3, 2009 – Kenwood Vineyards takes pride in producing premium Sonoma County wines and that pride shows in the vibrant new Kenwood Vineyards website. In the 39 years since Kenwood Vineyards' founding, Sonoma County has been recognized as one of the world's great wine growing regions and www.kenwoodvineyards.com enables wine lovers and wine novices alike to appreciate its beauty and bounty.
The new website combines advanced web technology, eye-catching photographs, and informative text and graphics to showcase Kenwood Vineyards, the Sonoma Valley and Sonoma County. Cursor-activated headers take users to drop-down sections on Kenwood Vineyards' winery, wine portfolio, recent accolades, upcoming events and wine club, each with its own full-page photographic backdrop. Side menus in each section provide access to detailed information, from directions to the Kenwood Vineyards tasting room to information on its sustainable farming and business practices. The "Discovery" section provides a concise guide to Sonoma County wine country and the region's 12 American Viticultural Areas, a regularly updated winemaker's newsletter and a glossary of wine terminology. There is even a "weather corner" that shows the temperature, wind speed and wind direction at Kenwood Vineyards in real time. The website's elegant design was created by HeckArt Studios of Beverly Hills, California. The web address for Kenwood Vineyards is www.kenwoodvineyards.com.
Established in 1970 in the Sonoma Valley, Kenwood Vineyards produces premium wines that are representative of Sonoma County's world-class vineyards.