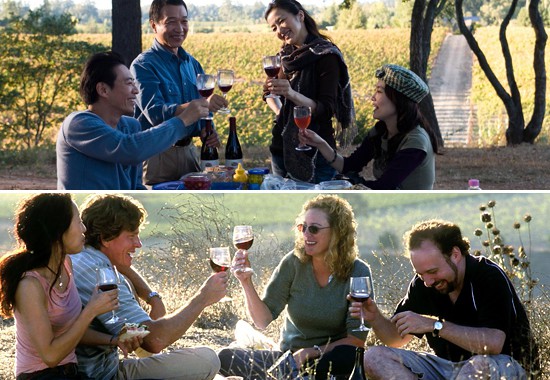 (Los Angles, Ca) Fox International will premiere the much talked about Japanese 're-imagination' of the 2004 Alexander Payne drama "SIDEWAYS" at the Napa Sonoma Wine Country Film Festival on September 27th. The film will wrap the festival with a closing night Gala presentation. Japan born American director Cellin Gluck shot the film on location in Napa as opposed to the Santa Barbara wine country where the original was shot. The film stars Academy Award nominated actress Rinko Kikuchi ("Babel"), Kyoka Suzuki, Fumiyo Kohinata and Katsuhisa Namase.
Many of the wineries featured in the movie – Frogs Leap, Lynmar, Darioush , MX, Azur, St. Supery,, and Newton Vineyard, will be on hand to offer tastes of their wines. The wine reception starts at 6:30PM ($22.50 in advance / $25 at the door day of show). The film will screen at 8:00. To purchase advance tickets call 707.935.3456. One ticket includes 7 tasting tokens.
Following the world premiere, the film will have its international premiere in Tokyo on October 5th with a screening at the Hawaii International Film festival immediately preceding the Tokyo International Film Festival, which will screen on October 22nd.
So, will sales of Merlot decline in Japan? No, according to Gluck , who grew up in Kobe, Japan the son of an American father and Japanese-American mother. "To convince the Napa faithful that Merlot(nor any other varietal for that matter), would be disparaged as it was by Miles in the original, we asked everyone to read the script."
"Sideways" opens nationwide in Japan on October 31st, distributed by Fox Japan. US and worldwide distribution plans to follow.