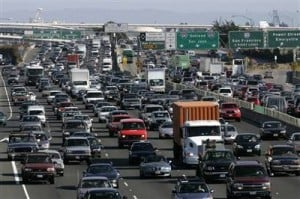 Money may indeed buy you time. At least if you live in the Bay Area.
The highly desirable carpool lane, only available during non-peek hours and to specially marked hybrids and cars with two or more occupants, may soon be all yours… for a price.
According to the Merc, the fees would range anywhere from a few cents to $10.00. The program is scheduled for late 2010, or early 2011. And it could be the largest in the U.S.
Bob Poole of the Reason Foundation, who has tracked toll use across the country, agreed.

"If the Bay Area were to convert all existing and planned carpool lanes into toll lanes, it would indeed be the largest such system in the country."
How will it work? Technology, of course. A FasTrak responder will digitally record useage and automatically bill car owners accordingly.
But don't get too excite just yet. Like a leisurely 101 commute to SFO, it will take time. Maybe even decades.
The most interesting question: how much are you willing to pay to get home, to work, or to that party with less hassle, and a few more minutes to enjoy life without those all-to-familiar highway fumes?
[Source: San Jose Mercury News, Roadshow: Bay Area may soon lead nation in carpool lanes open to solo drivers for a fee]