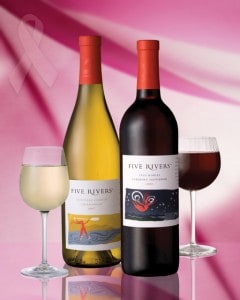 To Honor Breast Cancer Awareness Month, Winery Supports Breast and
Ovarian Cancer Charities & Honors 2009 Goddess of the Year
Hopland, Calif. (September 28, 2009) — Over the past five years, Five Rivers® Winery has helped raise more than $250,000 to support women's cancer organizations. While Five Rivers recently expanded its efforts to include raising funds and awareness for all female related cancers, breast cancer has continually been at the forefront of its efforts. In honor or National Breast Cancer Awareness Month, Five Rivers is once again working with local and national charities to build awareness and raise funds for breast cancer organizations. Additionally, Five Rivers is announcing the winner of its year-long campaign to highlight real-life Goddesses that have been affected by cancer.
On a national level, in support of women's cancers, Five Rivers will donate funds to the National Breast Cancer Foundation, Ovarian Cancer National Alliance, and Gilda's Club. Additional breast cancer initiatives include donating $1 per bottle of Five Rivers sold in the month of October in select states and honoring various local charities. Throughout Indiana, Michigan, and Ohio, the money raised will benefit the National Breast Cancer Foundation, while in Kentucky, New Orleans and Colorado, the local affiliate of Susan G. Komen will receive these funds. Five Rivers will support these initiatives through POS materials.
"Five Rivers is doing its part in the fight against women's cancers in many ways," said Melissa Davis, Brand Manager for Five Rivers. "Through our national charity partners, local fundraising initiatives, and our campaign to celebrate women, Five Rivers is raising money and awareness to support real-life Goddesses across the U.S."
Five Rivers created the "Save a Goddess" campaign to celebrate those who've been affected by female cancers. The campaign provided an opportunity for those individuals to tell their story to inspire and encourage others whose lives have been affected by cancer. The "Save A Goddess" year-long campaign has concluded and of the five inspiring women that were recognized throughout the year, one truly extraordinary individual, Wendi Duvall, was chosen as the 2009 Five Rivers Goddess of the Year. As the grand prize winner, Duvall will receive a four day-three night spa retreat for two.
Diagnosed in August 2006 with Stage II breast cancer, Duvall cared for her family and worked full-time, while undergoing a double mastectomy, reconstruction, and four months of grueling chemotherapy. At the end of her process, she found herself dealing with a grief she wasn't prepared for and unfortunately wasn't able to find other survivors to reach out to and lean on during this period. Ultimately, she founded her own support group called "Breast Friends" and today the group just celebrated their first anniversary and is 30 members strong.
According to the National Cancer Institute there are more than 10 million cancer survivors in the United States. This year, more than 260,000 women will be diagnosed with some form of woman's cancer in the United States. Together we can help save the goddesses in our lives. For more information on Five Rivers Wines, visit www.fiveriverswinery.com
Five Rivers features a series of Goddess images representing the elements essential to produce award-winning wines – Earth, Air, Fire, Water and Time. Five Rivers wines are produced from select lots chosen from California. Award winning Chardonnay, Pinot Grigio, Cabernet Sauvignon, Pinot Noir and Merlot are also offered with the blessing of the Goddess.