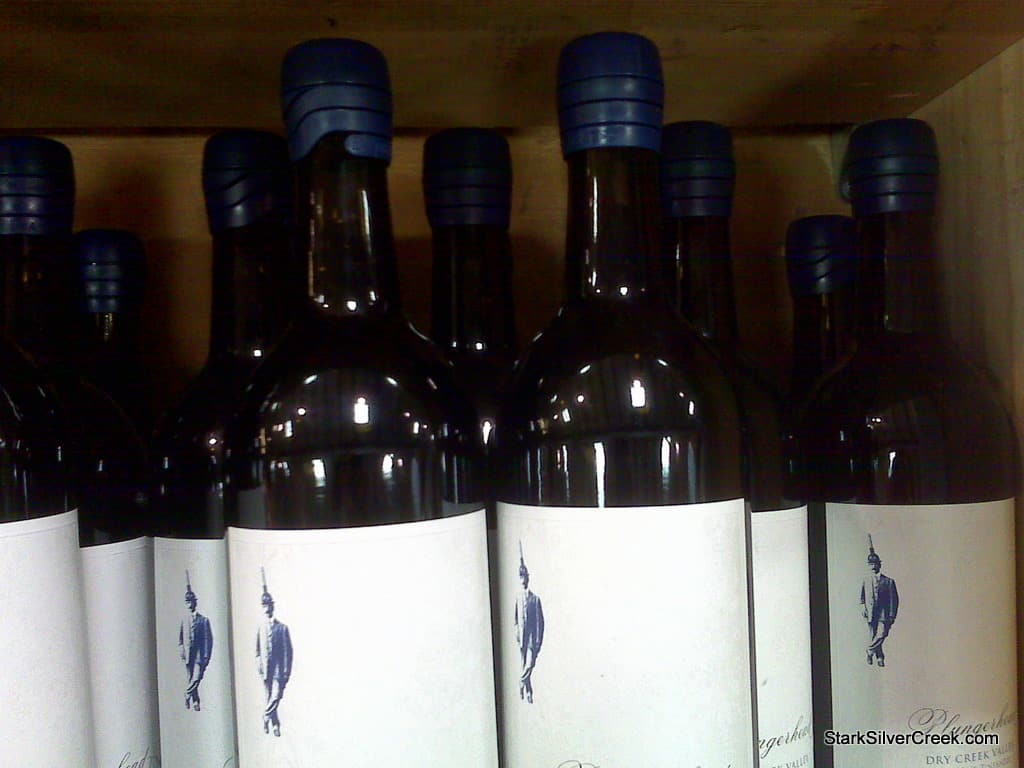 While at Costco today, I spotted these bottles of wine with the Zork plastic alternative wine closures. These alternative wine closures were introduced into the market to address the problem of "cork taint" which impacts about 5-15% (percentages vary from different sources) of wine sealed with natural cork per year. Earlier plastic corks were a lower cost alternative to natural corks, however, the latest slew of alternative wine closurers focus on style while maintaining the ceremonial aspects associated with uncorking a bottle of wine. For example, the Zork closures shown here create a "pop" sound when removed from a bottle of wine.

One of my favorite cork alternatives are the Vino-Seal or Vino-Lok plastic/glass seals which look absolutely fabulous on a bottle of wine. My first encounter with one of these was at Whitehall Lane Winery.
There have been environmental concerns with cork alternatives.
Firstly, there is concern around the garbage generated by plastic wine closures which do not biodegrade like natural corks. With about 15 billion wines bottled each year and that number growing as wine consumption increases in popularity, we can find ourselves in a similar situation to all the plastic water bottles littering our landfills.
Secondly, one of the largest and most profitable uses of harvested cork worldwide is for sealing wine. This has allowed for ancient cork-oak forests mostly situated in the Mediterranean to be financially sustainable. These forests have large amounts of biodiversity and the actual cork-oak trees can live for hundreds of years providing a steady harvest of cork. Animal species that live in these forests include the Iberian Lynx, Barbary Deer, Egyptian Mongoose and rare birds such as the Imperial Iberian Eagle and the Black Stork.
In March 2006, a new Spanish law was introduced which outlaws the use of alternative wine closures such as screw caps and synthetic closures in 11 of Spain's top producing regions. The law did this by noting only bottles of wine using natural cork produced in these regions would get the D.O. (Denominacion de Origen) status.
On a personal note, I still love the ritual of opening a bottle of wine with a natural cork in it. I think the issues with "cork taint" just adds to the allure of all the different miniscule details that have to be considered in the entire process from growing the grapes, the harvest to the final sealing of the wine in bottles. But then again, I have not experienced "cork taint" in one of my special occasion bottles of wine from my cellar.
Yet when I plunge a waiter's friend into a bottle of wine, a single thought, "No guts, no glory!"