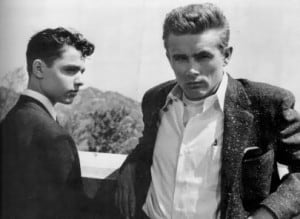 1955. Rebel Without A Cause. Just months later the film's star, James Dean, would die in a head-on collision in his Porsche 550 Spyder. His legend, his myth, would reach stratospheric heights—not bad for starring in only 3 movies.
East of Eden is probably my favorite, but Rebel showcases Dean's acting chops. He chews every scene. Even when he famously takes a drink of water. Dramatic! Where's James Lipton?
What I like about Rebel is James Dean doesn't play the typical, swaggering, cool lead. Although he exhibits all those qualities. Generally, he's a mess. Whining. Wailing. Then crying. Befriending toys. Yelling. Staring with introspective moodiness. And then crying some more.
Here's one of my favorite scenes. Yes, that's "Chief" (Edward Platt) from Get Smart. It's hard not to imagine the cone of silence descending at any moment.
Classic cinema extraordinaire!