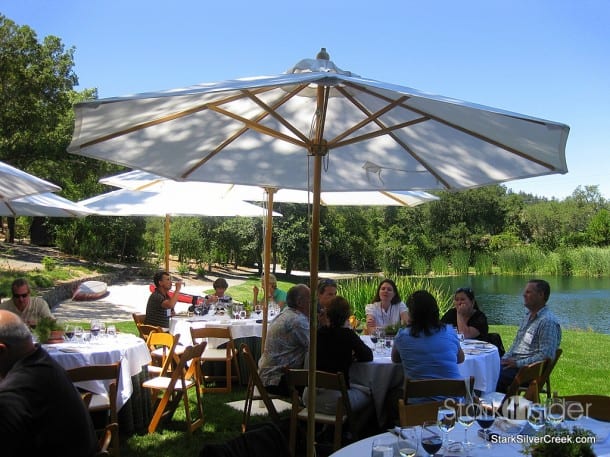 Dropped off in the middle of a sandy path, a gentleman with a cowboy hat greeted us. On his chest, a seemingly out-of-place white badge beared the label, "Kirk Grace, Vineyard Manager". Around us, vineyards spanned in different directions. There was no sight of an expansive tasting room or the indication of some European-designed villa.
No, we were in the middle of the vineyards of Stag's Leap Wine Cellars, and Kirk Grace, our host, was the keeper of the estate that had produced the first place red in the infamous Judgement of Paris.
I followed along a winding path until I arrived at the lunch destination. A beautiful setting beside a pond. In the distance a red canoe. In the foreground pretty tables with white umbrellas set up.
The setting looked pretty and I almost imagined myself with a wide-brimmed hat and white gloves arriving at an ice cream social. Alas, I dressed for comfort and sported a pair of jeans and a black Lulu yoga top.
I sat down and the wines were poured.
First up was the 2007 Stag's Leap Wine Cellars Karia Chardonnay, Napa Valley ($34). The wine suited the setting. It had aromas of bright apple and peach. On a warm day, the cool citrus notes were refreshing and paired well with a beet salad that was served. I love beets and it seems that recently they have experienced a resurgence in popularity. Karia, I am told, is derived from a Greek word that means "graceful". Hmmm… Kirk GRACE…GRACE-ful. Coincidence or fate?
Second up was the 2006 Stag's Leap Wine Cellars Artemis Cabernet Sauvignon, Napa Valley ($55). This was a true Napa cab with rich blackberry and plum on the nose. Hints of black pepper and spice. The wine has good structure while still being smooth on the finish.
Both wines reaffirmed Stag's Leap Wine Cellar's placement in the Judgement of Paris.
As a finish, large chocolate chip cookies and chocolate-dipped strawberries were served. If I was a little more bold, I think I would have grabbed a cookie, ran to the pond and soaked my legs in the cool water while munching on the plump, soft chocolate chip cookie.
At the end of lunch, Kirk Grace showed us another part of the vineyard, describing the care and methods used to produce premium fruit for the wines. Kirk is a very down-to-earth guy, but even he couldn't resist telling the tale of how Stag's Leap Wine Cellars got its name.
I am not sure the accuracy of my version here as I had just come from a fantastic lunch with some great wines. I recall Kirk lowering his voice to a hush and he told of a tale of a few gentleman that were pursuing a stag out yonder in the hills. (Here Kirk waves his hands directing us to look at a particular section of the hills where there are two prominent peaks.) Just as the stag was cornered and the men thought they had captured it, the stag leaped across the valley onto the second peak and then disappeared into the wild.
I am not sure if there is any truth to this story, but one truth is certain. From the wines we tasted that day, Kirk Grace definitely takes good care of the vineyards.