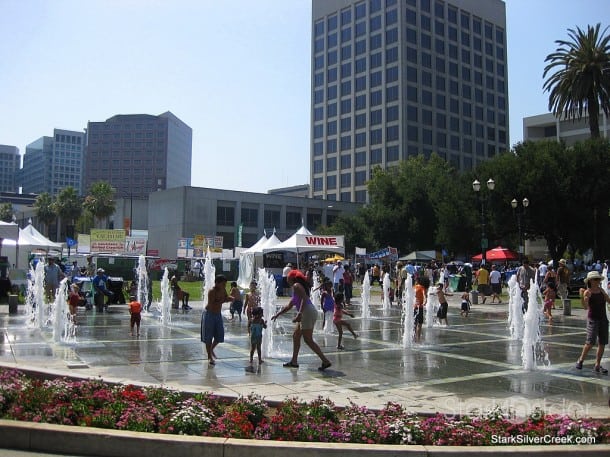 This weekend, downtown San Jose came alive with music, food and fun as the 20th annual Jazz Festival rolled in showcasing 100 concerts on 10 stages, all squeezed into 3 days. Calling it a jazz festival is an understatement as attendees were treated to other styles as well including Salsa, Blues, Latin, Swing, R&B, Hip Hop, Smooth, Fusion and more.
In 2008, there were 102,000 attendees with over 50% coming from outside the Silicon Valley area. From the attendees we interviewed this year, it seems most contend that this year's attendance is higher than last.
Although there are a lot of people, the event was well organized and there were plenty of places to get food and drinks. The air was filled with aromas of grilled meats, sizzling sauces and baked goods. Buckets of ice cold beers and water quickly emptied as the hot sun made everyone thirsty for something cold.
Many people had pitched a lawn chair in front of one of the stages, set up colorful umbrellas to stave off the harsh rays of the sun while others set up a picnic blanket full of goodies.
For those that forgot their sunscreen at home, Hawaiian Tropic had a stand set up and were handing out little packets of sunscreen to the foot traffic that passed through.
Overall, a well-organized and fun festival. Looking forward to next year's.