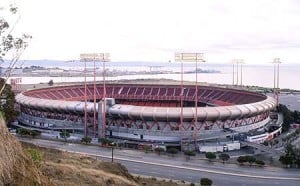 We have a pretty looking preview of what could be the 49ers new stomping grounds sometime this century. But the big question remains. Will they or won't they move?
I wonder how many more times we'll read a story about the storied San Francisco 49ers NFL franchise packing up and heading 40 miles down 101 south to Santa Clara.
First the stories focused mostly on the history and beauty—undeniable—of the current stadium at Candlestick Park (built in 1958) outside San Francisco. Partial swamp land, partial crumbling concrete. And recently the site of ant-sized condo units overlooking the gorgeous highway 101 highway.
Then came the proposal for a new stadium in Santa Clara, along with, yes you guessed it, all sorts of demands for community support in terms of cash, $100M+. Then again, it's a two way street. A professional franchise brings in tax revenue, plus all sorts of ancillary business as thousands arrive in town on game day. The draw should be decent too. San Francisco. San Jose. East Bay. Probably even some Raider Nation in Oakland who would never admit it, will head down 880 south for a game as the silver and black endure more Al Davis franchise management brilliance.
Well if it does happen, here's the promo video in case you missed it on what a new stadium would look like, smack dab near our beloved Great American grounds.