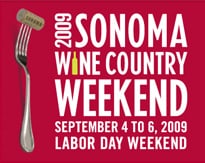 Sonoma's Largest Wine and Food Event
– Part of the 2nd Annual Sonoma Wine Country Weekend, Presented by Visa Signature –
Features Tastings, Demonstrations, Tours and Seminars Showcasing More than 200
Artisan Wineries, Growers, Chefs and Food Purveyors
Sonoma, Calif. (July 15, 2009) — Sonoma Wine Country Weekend Executive Producer Maureen
Cottingham has released event details for the 30th Annual Showcase: Taste of Sonoma, taking place
Saturday, September 5th from 11am – 4pm at Sonoma's famed MacMurray Ranch vineyards in
Healdsburg. Showcase: Taste of Sonoma is part of the three-day Sonoma Wine Country Weekend that
culminates Sunday September 6th with the 17th Annual Sonoma Valley Harvest Wine Auction,
presented by Trilogy Glass & Packaging at Cline Cellars in Sonoma. One of the country's premier food
and wine events, Sonoma Wine Country Weekend celebrates Sonoma's artisan food and wine
community while raising much needed funds for local charities. To see the full list of Sonoma Wine
Country Weekend events go to www.SonomaWineCountryWeekend.com.
"Showcase: Taste of Sonoma is an epicurean event unlike any other," said Cottingham, "offering
boundless opportunities for wine lovers and foodies alike to sip and savor the diversity of our rich farmto-
table heritage alongside the growers, winemakers and chefs who've made Sonoma one of the
world's great food and wine destinations."
Named one of the "Ten Best Wine and Food Events in the United States" by Celebrated Living
magazine, Showcase: Taste of Sonoma is a coveted ticket. General Admission is $150 per person. Visa
Signature cardholders receive a special price of $95 per person, as well as other event perks when they
use their card to purchase tickets. Grand Reserve tickets are $195 per person. Visit
www.SonomaWineCountryWeekend.com to buy tickets.
Showcase: Taste of Sonoma Highlights:
• NEW THIS YEAR! – Grand Reserve Showcase: Grand Reserve ticket holders receive
additional privileges throughout the event and access to exclusive venues featuring rare wines,
gracious hospitality and special behind-the-scenes benefits, including:
Club Reserve, a luxury "taste-around" where winemakers and owners of Sonoma's iconic
wineries – including Pride Mountain Vineyards, Tandem Winery, Lambert Bridge Winery,
Lancaster Estate, Kamen Estate Wines, Skipstone, Amapola Creek Vineyards & Winery,
Stonestreet Winery, Paul Hobbs Winery, Rodney Strong Vineyards and Vérité Winery – will
sample their limited production, reserve and private wines from large format bottles.
MacMurray Lounge, Kate MacMurray, together with members of the Gallo family, will host
Grand Reserve ticket holders in the private and beautifully appointed estate garden located
behind late actor Fred MacMurray's historic home. Guests are invited to unwind and recharge
with special reserve wines, seasonal wine country cuisine and lively conversation.
• SOLD OUT! – Wine TALKS in the Wine Barn: A series of informative wine seminars,
discussions and focused tastings with renowned Sonoma County winemakers. Featured topics
include: Out of the Ordinary Wines with Gwendolyn Wilson, Wine educator, Wine
Spectator; Rosé with Sonoma Wine Country Weekend Host Sommelier and wine educator
Christopher Sawyer; Terroir of Regal Pinot Noirs; Extreme Wine Growing; Sonoma's
Legendary Old Vine Zinfandel; and the History of MacMurray Ranch with Kate MacMurray,
daughter of famed late actor Fred MacMurray.
• Sonoma County Appellation Grand Food and Wine Tasting: An immersion experience,
with more than 150 wineries pouring thousands of wines, and over 60 local chefs whipping up
divine pairings. This is a rare opportunity to go one on one with artisan producers representing
the four distinct appellations of one of the most diverse and bountiful growing regions in the
world.
• Sonoma's Sommelier Stars Wine and Food Tasting Tours: Sonoma's own celebrity
sommelier Christopher Sawyer has assembled an all-star team of nationally acclaimed
sommeliers who will be on-hand to provide 30 minute guided tours through the Grand Tasting
Tents. With their knowledgeable guidance, guests will discover hidden gems, try new varieties,
and enjoy expert insights on expanding their wine appreciation and knowledge. Registration
taken the day of the event.
• The Gloria Ferrer Bubble Lounge: Located at the entrance to Showcase: Taste of Sonoma,
the Gloria Ferrer Bubble Lounge offers visitors a chance to toast the day with a bit of bubbly
paired with small bites, presented by Cindy Friedman, Gloria Ferrer Caves and Vineyards
Certified Wine Educator.
• The Crushpad: A unique "grape to glass" tasting and demonstration presented by local grape
growers and winemakers. Guests will sample freshly picked grapes, juice from a basket press
demonstrating and finally a taste of the finished bottled wine from the highlighted vineyard.
Presented by the Sonoma County Winegrape Commission.
• The Gourmet Kitchen: Steel Chef Competition and Cooking Demonstrations: Sonoma
County's most celebrated chefs face off in a fast paced, fun and educational competition for the
coveted title of Sonoma County's Chef of Steel. The audience will learn to flip, dip, chop and
whip like the pros in the demonstration kitchen, where throughout the day Sonoma's top chefs
will share the tricks of the trade, including new recipes, techniques and innovative ways to
flavor food.
• Sonoma County Marketplace: Explore the bounty of one of the world's most fertile food
sheds brought to market by small, local family farms. Guests can browse, sample and purchase
high-quality, artisanal ingredients used by local chefs and explore the new sustainable and
organic area, to learn how to incorporate "green" foods and products into the home pantry.
• Silent Auction: Benefitting the Redwood Empire Food Bank, the Showcase: Taste of Sonoma
Silent Auction and Big Bottle Bid offers bidders a chance to take home prized bottlings from
local winery cellars, one-of-a-kind etched bottles, and other terrific trips and packages.
• A Self-Guided Walk-Around Retrospective: "Legacy of the Land: 150 Years on a Russian
River Valley Ranch": Experience the living history of MacMurray Ranch through a neverbefore-
seen exhibition from the MacMurray family archives detailing ranch life from the late
19th Century to today. The exhibit is displayed in the oldest structure on the ranch, called the
Prune Shed in reference to the principal Russian River Valley cash crop of the early 1900s.
From subsistence farming to elite Pinot Noir, the history of MacMurray Ranch tells a story of
Sonoma County agriculture from the 1850s to the 21st Century. Join us in experiencing this
exhibition while enjoying MacMurray Ranch Wines.
About 2009 Sonoma Wine Country Weekend Sponsors and Beneficiaries
A partnership between Sonoma Valley Vintners & Growers and Sonoma County Vintners, Sonoma
Wine Country Weekend is the area's largest wine and food fundraiser, having donated more than a
combined $8 million to local charities that support students, children, farm workers and people in
need.
The 2009 Sonoma Wine County Weekend is presented by Visa Signature, whose cardholders will
receive exclusive perks and savings throughout the event. From benefits that save time to benefits that
help to safeguard purchases, Visa Signature helps cardholders get the most out of life. In addition to a
choice of numerous airline, hotel and other premium reward partners, cardholders enjoy access to
around-the-clock complimentary concierge services; epicurean events and reservations at the hottest
restaurants; premium merchant offers; and access to exclusive events such as the Olympics, Super Bowl
and the Tony Awards, as well as preferred access and seating at local sporting events, concerts and
movie screenings. For more information about Visa Signature, visit www.visa.com/signature.
Other partners include Executive Sponsors: Trilogy Glass & Packaging and MacMurray Ranch; Major
Sponsors: American AgCredit and Sonoma County Winegrape Commission; Winery Sponsors: Cline
Cellars, Jacuzzi Family Vineyards, Rodney Strong Vineyards, and Gloria Ferrer Caves and Vineyards;
Supporting Sponsor: Caliber WinePak and Stölzle USA; Media Sponsors: Wine Spectator, Gourmet
Magazine and San Francisco Magazine. For a complete list of beneficiaries and sponsors of the 2009
Sonoma Wine Country Weekend, please visit www.SonomaWineCountryWeekend.com.
About Sonoma Valley Vintners & Growers Alliance and Foundation
The Sonoma Valley Vintners & Growers Alliance (SVVGA) is a non-profit trade organization serving
over 500 vintners, growers and associates who share a mission to promote awareness of Sonoma
Valley's grapes, wine, and history as the birthplace of the California wine industry. The Sonoma Valley
Vintners and Growers Foundation (SVVGF) is a non-profit 501c.3 organization that has raised over
$6,000,000 for local Sonoma Valley charities through the Sonoma Valley Harvest Wine Auction. For
more information on the SVVGA and SVVGF, please call 707-935-0803 or visit
www.SonomaValleyWine.com.
About Sonoma County Vintners
Sonoma County Vintners (SCV) is the leading voice of Sonoma County wine, dedicated to raising
awareness of Sonoma County as one of the world's premier wine regions, noted for its heritage of
artisan winemaking, distinct growing regions, and extraordinary quality. Founded in 1944, SCV
represents more than 175 wineries of all sizes throughout the county. www.SonomaWine.com.
About MacMurray Ranch
MacMurray Ranch, located in the heart of the Russian River Valley, is dedicated to crafting awardwinning
Pinot Noir and Pinot Gris wines for the Pinot enthusiast. MacMurray Ranch wines are
available nationwide wherever top quality wines are sold. www.MacMurrayRanch.com.