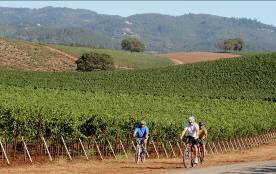 Harvest and Dog Hikes Return, New Cycle & Sip Tour Added for Bike Enthusiasts
(KENWOOD, CA August 27, 2009)–As wine country harvest begins in the scenic Sonoma Valley, Kunde Family Estate continues to offer behind the scenes ways to experience the beauty of the season. On September 19th Fourth Generation Winegrower Jeff Kunde will lead his annual Eco-Tour Harvest Hike, taking guests on a 3 mile journey through the vineyards and up to 1,400 feet into the Mayacamas Mountain range. The hike concludes with a tasting of Kunde Family Estate wines and a wine country style picnic lunch overlooking the breathtaking Sonoma Valley.
For those that prefer to explore on wheels, Kunde Family Estate offers the inaugural Cycle & Sip in the Vineyards, a bicycle expedition led by Jeff Kunde that winds through the sustainably farmed estate's five distinct eco-systems and volcanic and vertical terrain. This moderately strenuous ride lasts approximately four hours and, like the Eco-Tour Harvest Hike, the experience ends with a wine country picnic lunch and tasting of Kunde Family Estate wines. Full details about all tour offerings below:
Harvest Eco-Tour
Date: Saturday, September 19th
Time: 9:30am – 1:30pm
Cost: $60 per person.
Pre-registration is required. Please reserve online at: .
Limited to 50 people.
Cycle & Sip in the Vineyards
Date: Sunday, October 4th 2009
Time: 9:30am – 1:30pm
Cost: $50 per person
Reservations required. Please reserve online at: .
Cycle and Sip tour limited to 50 people. Off-road bikes are required – no motorized vehicles allowed. Each participant is required to bring their own bike and helmet.
Eco-Tour Dog Hike
Date: Saturday, October 17th 2009
Time: 9am – 1:00pm
Cost: SOLD OUT
Hike and Taste in the Vineyards
Join Sonoma Valley Docent Bill Myers on a fun, casual and up-close hike through Kunde Family Estate. Guests are asked to pack a sack lunch and wear hiking boots or appropriate footwear, as well as to bring sunscreen and water. This hike will conclude with a wine tasting in the Tasting Room.
Dates: November 7th & December 19th 2009
Time: 9:30am – 1:30pm
Cost: $25 per person (includes wine tasting), $15 for those under 21
A portion of this fee will be donated to the Sonoma Ecology Center.
Reservations required. Please reserve online at: www.kunde.com/sustainable_winegrowing/winegrowing_hikes.asp
Hike and Taste limited to 50 people per hike.
About Kunde Family Estate
Kunde Family Estate is one of the North Coast's premier wine estates. Located in the Sonoma Valley, the family's scenic 1,850-acre estate has been managed by five generations since 1904. The Kunde Family Estate winery, built in 1990, produces 100,000 cases annually with distribution throughout the United States. Today, the Kunde family sustainably farms twenty grape varietals on 700-acres of estate vineyards. The Kunde family's sustainable farming efforts have earned them multiple awards, among them a Governor's Environmental and Economic Leadership Award (GEELA), the State of California's highest environmental honor, in 2008, and Second Level Green Business Certification, the highest level awarded by the San Francisco Bay Area Green Business Program, since 2005.
Kunde Family Estate's Tasting Room, constructed as a replica of the original Kinneybrook Ranch cattle barn, and the nearby Aging Caves are open daily from 10:30 a.m. to 4:30