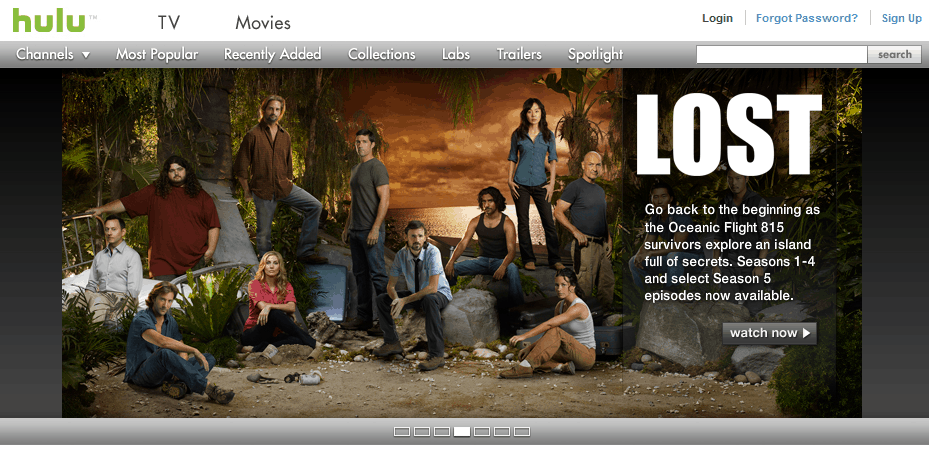 YouTube is for a quick fix: breaking news, someone getting kicked in the crotch, Usain Bolt replays, or the infamous Susan Boyle performance that broke earlier this year. It's all fun, until you realize your covered in grime and need a shower.
Hulu is the future, but it's also here and now—ready for prime time. Cable and satellite companies: be scared. The days of premiums, over-charging and stuffed packages are coming to an end. Like others here at SSC and around the Web I've spent time playing around with Hulu, trying to figure out the fuss, and deciding if it really can satiate my entertainment appetite.
So, if you're new to Hulu or simply wondering why the big deal, here are the 5 things you need to know.
1. Hulu is free, but not commercial free
No contracts! No fees! It's pretty simple, want to use Hulu? Then you will pay: $0. There are, however, dreaded commercials. But they're thankfully short, less invasive (no volume blasting infomercials from what I could see so far), and appear in singles before returning to your programming.
2. Hulu is on-demand
Forget about schedules and setting your alarm. You watch what you want, when you want. Maybe even the DVR will be obsolete sooner than we thought. Why bother recording something when you can pull it up anytime you want from Hulu?
3. Use your computer, laptop, even video game system (PS3, XBOX360)
It's simple, go to hulu.com and you're in business. Even some video game systems with some accessory software can stream Hulu into your family room. I've tried it on the PS3 with a program called PlayOn and it works well. The picture quality, while not HD, is surprisingly good as is the streaming, with no stuttering. HD (720p) is available via their Web site by visiting the HD Gallery.
4. Everything is on (and I mean everything)
Bruce Springsteen once sung "57 Channels and nothin' on." He's going to need to flip his angst and re-write. Now it's more like "A million channels and everythin's on." In fact, channel is not the right word even (although Hulu does use "channels" as a way to categorize content, for example, "Food and Leisure"). You just watch shows, movies, and clips whenever you want. All the familiar TV fare is here: The Daily Show with Jon Stewart, Family Guy, Lost, House, plus popular talk shows such as NBC TODAY Show and The Tonight Show. For some reason, there is no shortage of Octomom clips.
The selection of movies and documentaries is equally impressive (and daunting), if dated. What happens when your diet is based solely on McDonald's? Check out Super Size Me. Or, in case you didn't hear, there's a sexy new thriller with Sharon Stone called Basic Instinct. You're not going to find first run, or even more recent, films here ('Frogs' anyone?). Compared to their TV shows, it's not quite as deep, but still not bad, again, considering this is free.
5. Hulu shows promise, but is not an all-star quite yet
What's missing? Live sports. Live event coverage. Live breaking news (although I expect Twitter, and Web streaming video on sites like CNN do a good job of this now).
If you want to watch your favorite sports team, then traditional TV may still be your best bet. Although, that's changing too. MLB signed up with Roku and is now available on Roku's Netflix streaming box. So Hulu, Roku, and the future of on-demand Web TV is only in, say, the second inning.