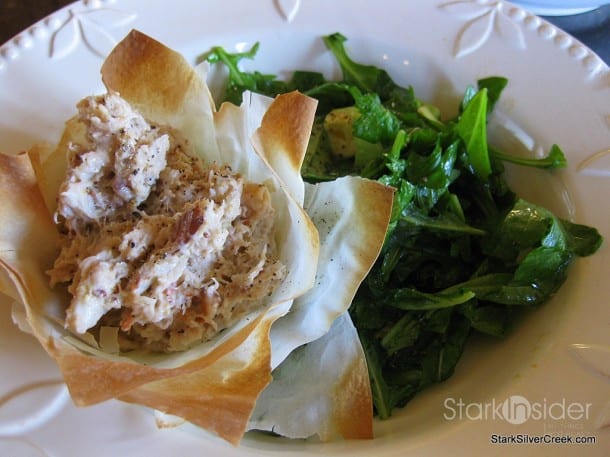 In this salad, the sweetness of the crab meat balances well with the "peppery-mustardy" notes of the arugula. Arugula is often mixed with other salad greens, however in this salad, I use only arugula leaves as they have a body and structure that some greens such as spinach or mache lack.
I created this salad a couple of weeks ago, inspired while sipping on a Chardonnay and staring at a bowl of fresh arugula about an hour before guests were arriving for a summer dinner party. Perhaps it was the warm air blowing through a window in my kitchen or the melon, citrus and apple notes in a latest trend hitting California Chardonnays, less oak, more bright fruits that made me dream up this creation, "Pass the Chardonnay" Crab and Arugula Salad with Orange Vinaigrette. Regardless, I am glad I did because the results are simply refreshingly delicious.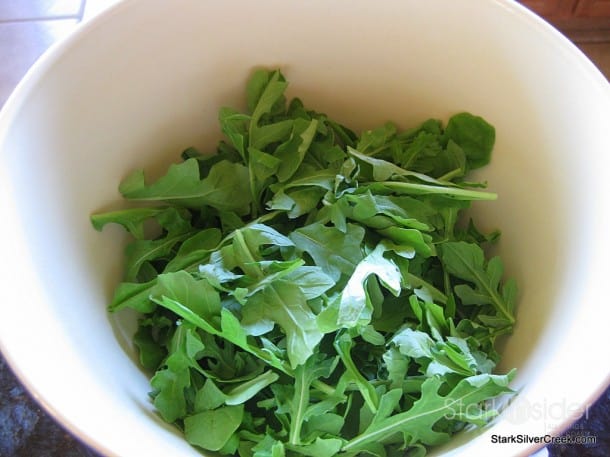 Start by first making the orange vinaigrette dressing which can be put in the fridge until the rest of the salad is ready to be served.
Orange Vinaigrette

2 oranges (you will need to extract the zest and the juice)
2 tbsp of aged balsamic vinegar (at least aged for 5 years)
1/2 cup of extra virgin olive oil
1 tbsp of honey
1/2 tsp of sea salt
1 tsp of freshly ground pepper
1 tbsp of fresh thyme finely chopped
Mix all these ingredients together and set aside in a bowl in the fridge.
Crab Flowers

4 large sheets of filo pastry
3 tbsp of melted unsalted butter
14 oz of fresh cooked crab meat (you can get this in a can, but get the best stuff your local grocer carries as the quality is noticed in the final dish
3 tbsp of mayo
1 tbsp of dijion mustard (get the kind with mustard seeds)
1 tsp of smoked sweet paprika
In a medium size bowl, gently incorporate all the ingredients except the butter and the Filo pastry which will be used to make the petals of the flower. Once thoroughly combined, cover up and place in the refrigerator until ready to serve.
Preheat oven or toaster oven to 350 degrees Fahrenheit.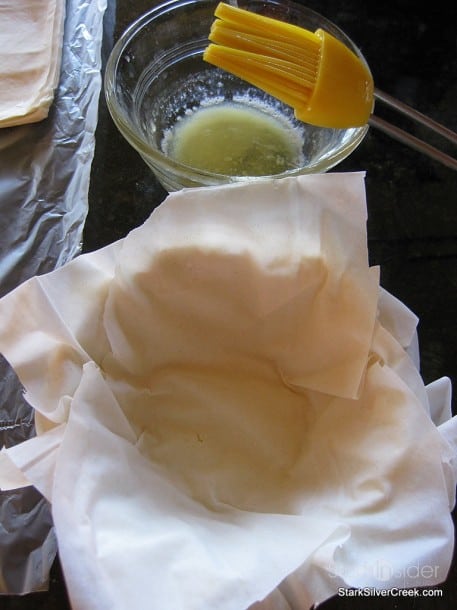 In 6 small ramekin dishes, brush some melted butter. Cut squares of Filo pastry in a size which allows for the pastry to cover the entire inside of the ramekin dishes and have a generous overflow along the edges. Place the first square of Filo in the ramekin dish and then brush the pastry with a thin layer of melted butter. Alternate until you have four pieces of filo pastry in the dish. Repeat for a 6 ramekin dishes. Place in oven and monitor closely. Remove when the edges of the Filo pastry area a nice deep golden brown.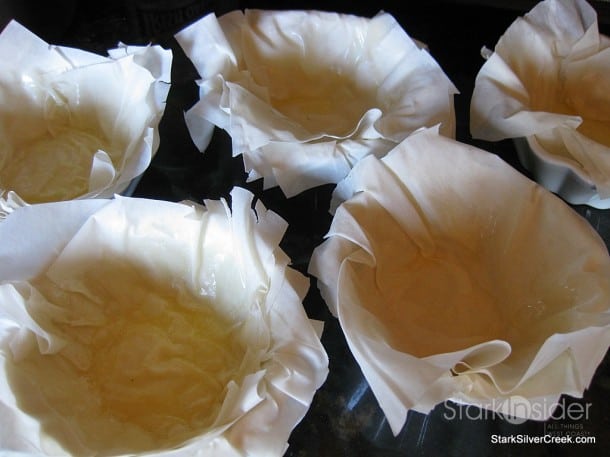 In a large bowl, add 14 ounces of arugula and one chopped avocado. Toss in orange vinaigrette and place on serving plates. Gently remove Filo shells from ramekins and place to one side on the salad. Evenly divide the crab mixture into each Filo shell. Sprinkle with some freshly ground pepper as a finishing touch.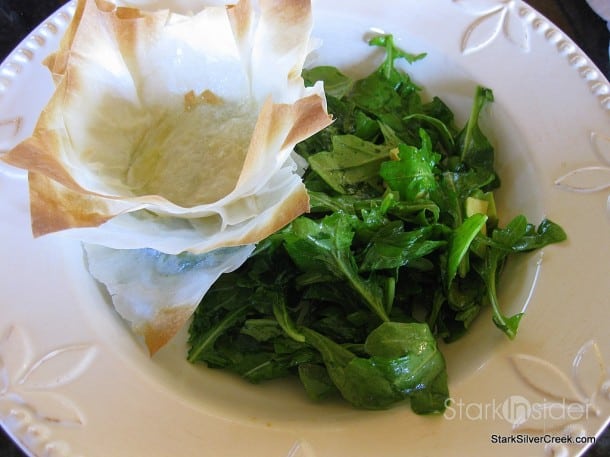 With such a refreshing salad on a hot summer day, the only thing left to say is "Pass the Chardonnay". Salut!