Create the Perfect Evening. Win the Perfect Getaway.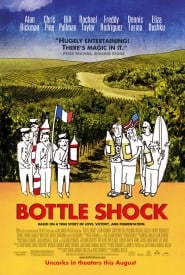 Announcing the Bottle Shock Getaway Contest
August 24, 2009, NAPA VALLEY, CA
The producers of the independently financed, produced and distributed film Bottle Shock have done it again. This time they are announcing a Bottle Shock Getaway Contest and tapping into social media networks to spread the word.
Bottle Shock is based on the real events surrounding the 1976 blind tasting in Paris pitting California wines against the French. The film stars Alan Rickman, Bill Pullman, Chris Pine, Freddy Rodriguez, Rachael Taylor, Dennis Farina and Eliza Dushku. Bottle Shock was shot in Sonoma and Napa during August 2007, and premiered at the Sundance Film Festival in January 2008. When big studio buyers weren't acquiring films that year, the producers of Bottle Shock opted for a do-it-yourself theatrical release, raising more funds and hiring Freestyle Releasing to run a marketing campaign and book the film into as many as 400 theaters across the country last August through October.
Now the film is available on DVD courtesy of Fox Home Video. An estimated 3 million people have enjoyed Bottle Shock to date, but the film's natural target audience of wine-lovers is over 20 million in the U.S. alone. The producers are now turning to social media to leverage the existing excitement about the film and encourage millions more to watch and enjoy Bottle Shock.
The contest encourages viewers to watch Bottle Shock, and share their experience – including what wine they were drinking, who they were with, where they were etc., through an interactive blog. The winners will then be hosted for an amazing Bottle Shock experience.
The 3-Day, 2-Night Bottle Shock Getaway Package includes:
2 nights at the Lodge at Sonoma, where the cast of Bottle Shock stayed (Alan Rickman, Bill Pullman, Chris Pine, Rachael Taylor, Freddy Rodriguez, Dennis Farina, Eliza Dushku).
Helicopter tour with the producers capturing those beautiful aerial shots over Napa and Sonoma and stopping for tours and tastings at key filming locations.
A guided tour of Chateau Montelena in Napa Valley, whose 1973 Chardonnay was the winning white wine at the 1976 Judgment of Paris.
A guided tour of Kunde Estate in Sonoma Valley where several scenes were filmed, including the boxing ring scenes with Bill Pullman and Chris Pine, and the final judging "tasting" scene inside the Ruins at Kunde – the first winery in Sonoma Valley.
Dinner with the producers at Della Santina in Sonoma, where scenes with Alan Rickman and Dennis Farina were filmed.
A bottle of Chardonnay from Chateau Montelena, signed by the cast.
Your very own Bottle Shock movie poster.
The best story will be determined by the Producers of Bottle Shock in October, 2009. To find out more, visit Bottleshockmovie.com.