Follow me on Twitter: @lonikaostark
It's been ages since I have had Deem Sum (Dim Sum). I went as a child almost every weekend with my parents out to deem sum in Toronto, Canada until I was thoroughly tired of it. A couple of sporadic visits in later life did not prompt any passion for the cuisine, until I was convinced it was gone from my dietary repertoire.
However, a recent invitation from a good friend, Eugene L— prompted me to go up to San Francisco today to a Dim Sum Tweet up…my first ever. The restaurant, Yank Sing at the Ricon Center. I figured even if I didn't care for the food, it would be great to catch up in person instead of just over Facebook…Twitter…Email….
There are two Yank Sing locations in San Francisco. We met up at the Ricon Center location. We were seated at a table in a courtyard area within the atrium just outside of the actual restaurant. The atrium was airy, surrounded by glass and soaring several stories high. A sculptural rainfall installment was a visual delight and also helped to cool down the building.
The first dish that arrived was the Honey-glazed baked sea bass which was some of the best I have ever tasted. It was tender, flaky and moist with a wonderful Hoisin-like honey glaze. It was so wonderful, later on in the meal, I ordered a second plate of it.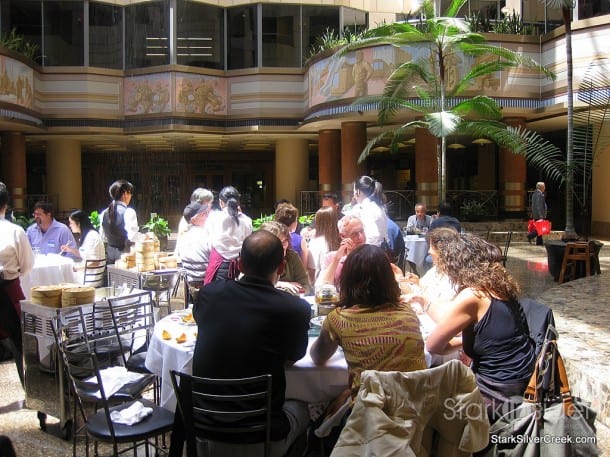 My second favorite dish was the Shanghai pork dumplings. I immigrated from Shanghai at a very young age and my mother would always tell me of the Shanghai pork dumplings she had in Shanghai and how no restaurant in Canada could ever compare. After tasting these dumplings, I could understand my mom's reverence for this dish when done right. Each dumpling had a thin wrap and when you bit into one, a savory and flavorful broth is released. The pork is so preciously tender as well.
Of course classics such as Shrimp har gau dumplings were exceptionally well executed, but of lesser note as quite a number of Deem Sum restaurant make these well. The Shanghai pork dumplings are definitely the benchmark Deem Sum dish as they are very difficult to make.
The only dish I was not completely crazy about was the congee which came with preserved duck eggs and salty pork. It is another favorite dish of mine and I thought the broth was not as flavorful as I have had in Hong Kong.
Yank Sing's moto is "Traditional & Contemporary Deem Sum". I would contend that what they offer is "Timeless and Seductively Delicious Deem Sum" for that is what they serve. I walked out of the restaurant with a new revived love for Deem Sum and a yearning to return again. I will also need to make a note to try their custard tart next time which is my favorite Chinese dessert.
I am tempted to give them 5 out of 5 stars, but want to visit them again to be certain. If on my second visit their Deem Sum matches my glorious memories of the dishes from this visit, it will surely deserve a perfect score.
P.S. Thanks Eugene for the invite and having superb taste in Deem Sum. Claire, thanks for organizing, Clint and I enjoyed meeting you.