Guest post by Pat Reardon.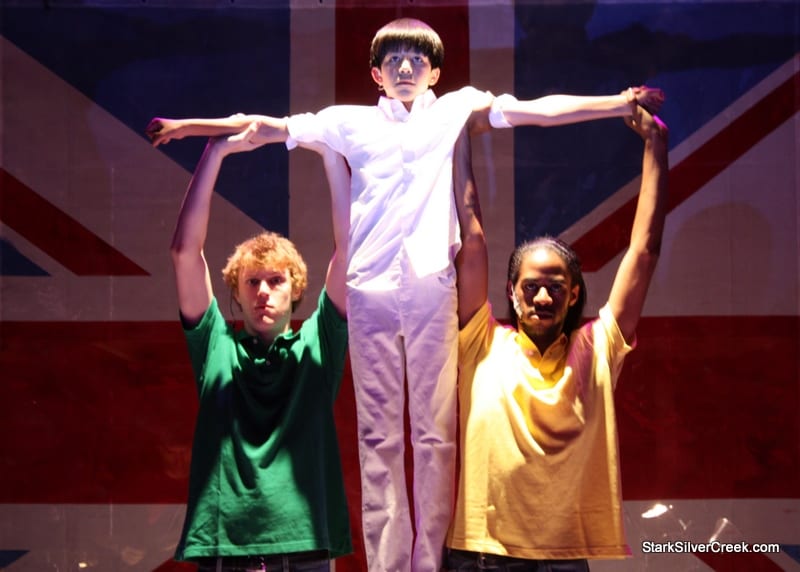 Saturday night, the City Lights Theater Company launched its production of Peter Townshend's classic rock musical The Who's Tommy.
This late 60s epic album was originally brought to the stage in the early 90s. It has enjoyed a wide and dedicated following ever since. Tommy tells the story of a young boy left catatonic as a result of a childhood trauma. He spends most of his youth in a semi-comatose state, the victim of neglect and abuse from an uncle, cousin and various neighborhood bullies. While his parents try to find a cure for the "incurable" Tommy, he discovers an innate talent. He is a brilliant pinball player. This spectacular wizardry is sensationalized when his mother accidentally cures him from his disconnected life.
Tommy becomes a phenomenon famous beyond anyone's wildest dreams. But, at what cost?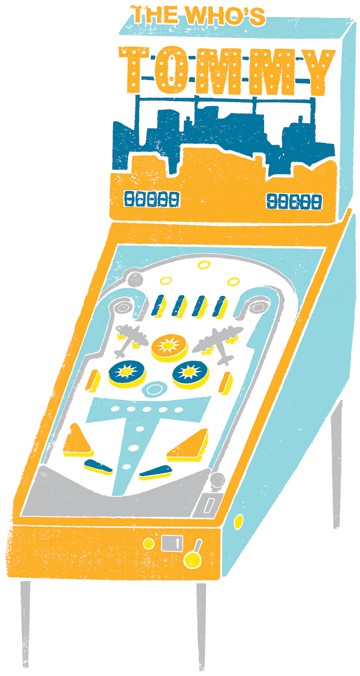 The City Lights production is dynamic and full of energy. The set is minimalist. The all-white stage is dominated by a Union Jack scrim which screens the band. Kit Wilder's direction makes the most of the strong cast featuring a young, energetic 9 person ensemble that is on stage in almost every scene. This is a 17 person cast and when the ensemble and leads are present at the same time, the seemingly large stage space clutters up quickly.
All of the leads forcibly command their scenes and have no difficulty singing over the incredibly loud (and not always pitch-perfect) band. Particularly engaging is Molly Thornton (Mrs. Walker). Her voice is full and clear and she portrays Tommy's mother with a excellent balance between frustration and hope. Isaac Benelli (Old Tommy) is a real treat to watch. In the first act, his role as narrator is simple and quiet. But in the second act, when Tommy is set free from his mental prison, Benelli leaps into a cult rocker persona that would rival anything from the heavy metal bands from the 70s.
The City Lights Theater Company of San Jose is often overshadowed by the slick productions of San

Jose Rep and the creative and engaging shows at the San Jose Stage. The smallest of the three organizations, City Lights produces 6 quality shows a year on a shoestring budget. This company gives local and young actors a platform to hone their skills in a setting that embraces their talent and rejoices in fresh delivery styles.
The Who's Tommy is scheduled to run through August 23rd, 2009