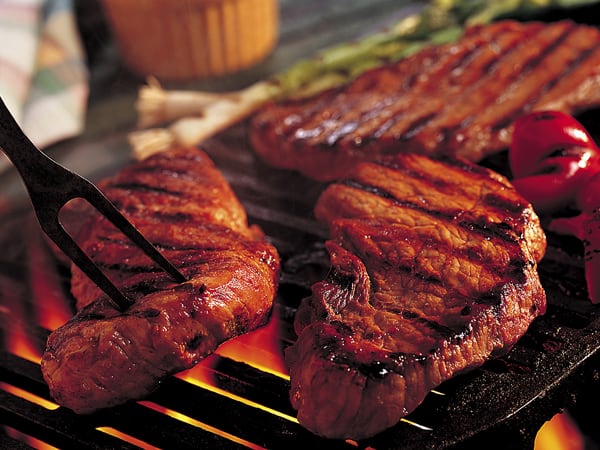 The secret to delicious steaks for any BBQ endeavor starts hours, even days, before the sizzling piece of meat even hits your grilling weapon of choice.
For my steaks, I like to throw them into a plastic bag and bath them in my favorite marinade concoction. It is a simple recipe, but a very effective one to tenderize and add flavor to turn any cut of meat into a star.

"Spoil and pamper me, darling" Steak Marinade Recipe

(Note: You can scale this recipe for the quantity of steak you have. In general, I'd like to have enough marinade so it generously covers all the meat. I will marinade meats sometimes for days to get full flavor penetration.)

1/4 cup of olive oil
1/2 cup of soy sauce (I use a low-sodium variation)
1/2 cup of aged balsamic vinegar (I'd like to use at least 8 years aged)
1/4 cup of honey
2 tablespoons of Dijon mustard
1 tablespoon of minced garlic
1 tablespoon of freshly ground pepper
(optional) 1 teaspoon of Paprika if you like some kick
(optional) 3 sprigs of fresh rosemary for good measure (remove sprigs before grilling)
Make sure to mix the ingredients well and pour into a thick plastic bag. I like using plastic bags instead of a container because you can more easily massage the meat with the marinade and ensure even coating of each piece.
If you are working with a tough piece of meat or can only marinade the meat for a couple of hours, I would use a fork and poke holes into both sides of it so the marinade can more easily penetrate into the meat.
Place the meat into the bag, seal bag and massage the marinade so all the meat is covered. Place in fridge and occasionally flip around so all the meat has time to be completely submerged into the luxurious marinade.
When ready to BBQ, take the bag of steaks out of the fridge and bring to room temperature. Then grill as you normally would.
You've spoiled and pampered your steaks, so now your guest will feel just as spoiled and pampered too!
And at the end of the evening, you can look over at your loved one, having happily devoured one of your steaks and say in a sultry voice, "Spoil me and pamper me, darling". Don't forget to wink seductively.