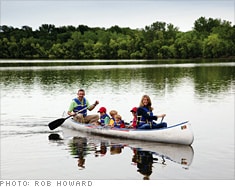 Money Magazine (CNN) just announced yet another "Best Places to Live" list. It seems like they come out every other month.
I don't have much to say here really… how often do we need to learn that small, obscure, rural, midwest towns are the best places to walk in the park?
As always I quickly scan these things to find west coast towns. You know, west coast vs. east coast. But middle America dominates. Like winner, Louisville, CO. Of course. But maybe could have guessed.
Washington state takes the crown for best Pacific coast state with three cities (Mukilteo, Sammamish, Newcastle) in the top 25, none of which I've heard before, maybe because I'm a big city guy.
One innovation on this list is the inclusion of good old Google Maps, with a dynamic list of all the winners so you can virtually tour these wonderful places with your mouse: Best Places to Live Google Map.