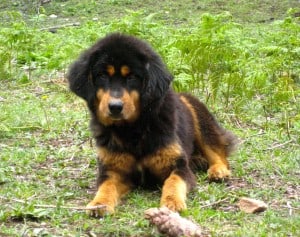 5/29/2009 Paro ->Djili Dzong
We started out on the Druk path, an ancient road that the King of Bhutan would travel on between Paro and Thimphu. Druk means "dragon" and the beginning of this trek certainly lived up to it's name.
We started at the trail head and did nothing but go up. And up. For 4,000 feet. We started on a gravel road with a few houses scattered here and there on small farms. The porters packed the tents, our duffels, food, and other gear onto small ponies and donkeys. A ubiquitous "camp" dog was nearby. These dogs followed us from camp to camp, seemingly switching off, and ate the scraps from dinner. They were semi-wild but not mean spirited or aggressive like some dogs that I've seen. They were laid back. I fondly scratched the head on one of them despite David's admonishment that I didn't know where the dog had been. Looking up, I made a sage comment about dogs not normally carrying disease that affects humans.
I turned back to see the dog gleefully rolling in a big old pile of horse poo. I washed my hands with antibacterial gel.
We actually stopped at Chonda's house (our guide) and met his wife, mother, and two children. I handed the kids a bar of Trader Joe's chocolate which they devoured without hesitation. There was a cow head tenderizing in the sun on top of a nearby shed, it had stumbled and fallen during the rains and died, Chonda explained that they'll let it age a few days before burning off the hair, boiling it, and eating the brains and all. Nothing is wasted. The rest of the cow had been rendered into strips and was hanging to dry in the attic of his house. His house was of traditional style: all houses are required by law to follow the old architecture. Nonetheless it was pretty basic living for a guy with a university education. He had gotten tired of copying numbers into ledgers at the local bank in Paro and wanted to try his hand at farming and guiding tourists instead. He seemed happy.
Past Chonda's house the trail narrowed from a road to a winding path that twisted its way up through a pine forest. Halfway up we saw a long brick wall adorned with symbols and niches. Apparently this "mani" was a type of shrine for praying for money or financial aid. Not exactly sure how it was used.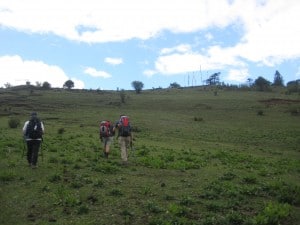 I think the altitude is definitely affecting me. The uphill slog is a real chore. We followed the trail upwards heading towards a line of vertical prayer flags standing like sentinels on the ridge. And down into a meadow where the tents had been set up. Just as we were finishing a well-deserved nap the heavens opened and it rained. It poured! The guides quickly dug a trench around our tent with a stick, trying to channel the water away from the interior. We still had quite a few things get wet that were stored out in the vestibule. My duffel bag is not waterproof! We broke out our rain gear and tried to wait things out.
No luck. We had to go out to the mess tent in the rain. The meadow itself was standing in ¼ inch of water and like a minefield. Yak dung, horse apples, and old latrine pits dotted the green. Despite the rain we needed to be alert and nimble: prancing about from green patch to green patch like lords a' leaping. After dinner we played our usual game of hearts (David won).
As we made our way back to the tents the rain stopped and stars came out. Unless you've been camping far from civilization it's hard to describe the night sky out here. There aren't just one or two bright spots struggling through the haze but swaths of starry clusters painting the sky: spatters of stars red, yellow, and blue in subtle color and whorls of galaxies. Made the whole climb up here worthwhile in an instant.