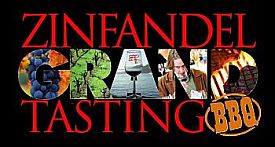 The Zinfandel Advocates & Producers (more affectionately known as ZAP) will be visiting two cities for their 'Zinfandel Grand Tasting BBQ' to quench wine lovers thirst for Zin this summer—Seattle on July 26-27 and Portland on July 29.
You can join them at these events courtesy of ZAP and StarkSilverCreek as we are offering 3 pairs of complimentary tickets to each event (worth $80-88/pair).
"Tasters will taste a rainbow of Zinfandels, from growing regions all over California," explains ZAP's Executive Director, Rebecca Robinson. "A friendly touch we specialize in at these tastings is that the attendees will meet the winemakers and winery owners, thus insuring that their questions will be answered from the 'horse's mouth,'" she adds. "In both of these cities it will be an opportunity to learn why Zinfandel attracts such a great following—people will be able to taste award-winning Zinfandels, mingle with winemakers and winery owners, learn about the richness & versatility of Zinfandel, discover why Zinfandel is called America's Heritage Wine and sample incredible BBQ from culinary students," she explains.
How special are these events?
Well, the last time ZAP, a non-profit devoted to the education of all things Zinfandel, visited Portland was in 2002 and they were last in Seattle over a decade ago in 1997.
How do you win complementary tickets to either of the events on StarkSilverCreek?

You can enter in two ways.
1. Post a comment to this entry with an interesting thought on Zinfandel and the city you would like to attend (PORTLAND or SEATTLE)
2. Send us a comment using the StarkSilverCreek contact form with the city you would like tickets to.
Winners will be selected by a raffle on July 1st conducted by yours truly (me). Good luck!
For those interested in attending because they just love a nice glass of Zin, perhaps paired with some tender smokey ribs and great conversation with winemakers here are the details that will you hooked up with these event.
SEATTLE
Sunday, July 26: 4:00 – 7:00 p.m., Zin & BBQ in the Park in The Gardens at South Seattle College's Arboretum, 6000 16th Avenue SW, Seattle (98106-1499, 206-764-5300, . ZAP is partnering with South Seattle College – Culinary Arts Department and Seattle Uncorked. Tickets cost $40 for the public and $35 for ZAP members. Tickets can be purchased in advance at

Some tickets may be available at the door.

Participating wineries are:
Accademia dei Racemi, Alexander Valley Vineyards, Artezin Wines, Bonterra Vineyards, Cakebread Cellars, Columbia Crest / Ste. Michelle Wine Estates, Four Vines Winery, Hendry, Homefire of Sonoma, J. Rickards Winery & Vineyards, Mauritson Family Winery, Neese Vineyards, Opolo Vineyards, Peachy Canyon Winery, Ravenswood, Ridge Vineyards, Robert Biale Vineyards, Sanctuary, Sebastiani Vineyards, Starry Night Winery, Steele Wines, Storrs Winery & Vineyards, Wine Guerrilla

PORTLAND
Wednesday, July 29, 6:00 – 8:30 p.m., World Trade Center Plaza, 121 SW Salmon Street, Portland (97204, 503/464-8688, www.wtcpd.com). ZAP is partnering with partnering with The Oregon Culinary Institute and Portland Uncorked.
Tickets cost $35 for ZAP members and $44 for non-members; some tickets will be available at the door. Tickets are available in advance at

Wineries participating are:
Accademia dei Racemi, Alexander Valley Vineyards, Artezin Wines, Bonterra Vineyards, Four Vines Winery, Hendry, J. Rickards Winery & Vineyards, Mauritson Family Winery, Opolo Vineyards, Peachy Canyon Winery, Pezzi King Vineyards
Ravenswood, Ridge Vineyards, Robert Biale Vineyards, Sanctuary, Sebastiani Vineyards, Starry Night Winery, Steele Wines, Storrs Winery & Vineyards, Wine Guerrilla