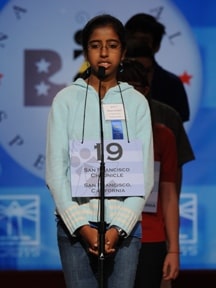 Now's your chance to see a star spelling bee on stage in-person, in-action at the San Jose Repertory Theater.
At Saturday's 3pm matinee performance, Ramya Auroprem, will join the cast as one of the four volunteer audience members who participate on-stage during the show. Ramya placed 5th in the 2009 Scripp's National Spelling Bee Competition which concluded just last week.
I hear she is fluent in Tamil. Tamil? Does anyone know that language, or where it comes from?
If you haven't seen the Bee, or even if you have and want to see it again with a twist, Saturday should be a special and entertaining show!
BTW – in case you missed it, Loni sat down with Marc, Dani and Clifton, actors from the show, and talked about the production including the wild stuff that can happen when audience members are on-stage! Link: Interview with the cast of the Spelling Bee.
Scripp's National Spelling Bee Finalist, Ramya Auroprem, Appears with the Cast of San Jose Repertory Theatre's "Spelling Bee!"
WHAT:                    Ramya Auroprem will join the cast of San Jose Repertory Theatre's The 25th Annual Putnam County Spelling Bee as one of four audience volunteers on Saturday, June 6 for the 3:00pm performance. At each performance, four audience members are selected and invited onstage to participate in the "Bee."
Immediately following the performance, Auroprem will join the cast in the Rep's post-show discussion,  an informal Q&A session, which gives audience members an opportunity to meet the cast and discuss the performance.  The post-show discussion will be led by San Jose Rep's Director of Outreach, Karen Altree Piemme.
WHO: San Jose resident Ramya Auroprem recently placed fifth in the 2009 Scripp's National Spelling Bee Competition.  The competition was held on May 29, 2009, at the Grand Hyatt Washington, in Washington, D.C. She is an 8th grader at Joaquin Miller Middle School.  Auroprem is fascinated by linguistics and is eager to learn new languages. She is fluent in Tamil and is currently studying French.
WHEN: Saturday, June 6, 2009, for the matinee performance at 3:00pm.
WHERE: San Jose Repertory Theatre
101 Paseo de San Antonio
Downtown San Jose
SHOW
INFORMATION:
The Tony® award-winning musical hit, The 25th Annual Putnam County Spelling Bee, is extended through June 14th.  This sassy musical comedy follows six young people in the throes of puberty. Overseen by grown-ups who barely managed to escape childhood themselves, they learn that winning isn't everything and that losing doesn't necessarily make them a loser.
Music and lyrics by William Finn
Book by Rachel Sheinkin
Conceived by Rebecca Feldman
Additional material by Jay Reiss
Directed by Timothy Near
Musical direction by Dolores Duran-Cefalu
Assistant Director/Movement Consultant Amanda Folena
Set Designer Robert Broadfoot
Costume Designer                    Shigeru Yagi
Lighting/Projection Designer      David Lee Cuthbert
Sound Design Jeff Mockus
Associate Lighting and
Projections Designer:                Seamus Stahan-Mauk
Stage Manager Laxmi Kumaran
CAST: Logainne Schwartzandgrubenierre Molly Bell
Chip Tolentino Marc de la Cruz
Rona Lisa Peretti Alison Ewing
William Barfee                                         Mark Ferrell
Leaf Coneybear Clifton Guterman
Mitch Mahoney Berwick Haynes
Douglas Panch Steve Irish
Olive Ostrovsky                                       Dani Marcus
Marcy Park Sophie Oda
About the Rep
San Jose Rep is the premier non-profit, professional theatre company in the South Bay, presenting six main stage productions each year. As a major contributor to South Bay's cultural community for 28 years, the Rep's mission is to engage, entertain and inspire people.  The Rep produces innovative theatrical performances that offer fresh perspectives into the human condition, educational programs that promote life-long learning, and outreach initiatives that benefit our diverse community.