I had passed the distinctive red barn-like building on many occasions on my way to visiting wineries in the Carneros region of Napa Valley wine country. Something about the welcoming primary palette and simple modern lines of the architecture stood out against the relaxed earthy tones of the landscape that whizzed by.
Finally, one day, after a wine club pickup from Artesa Winery, curiosity took hold and I uttered a couple of words that made the car turn left into the parking area next to the red building. Clint needed little convincing to stop in, especially with the potential promise of stinking his teeth into some meat.
The inside of the restaurant was as I imagined it to be. An open airy space with a mixture of comfortable wood elements and industrial metal chic. We were the only ones at the restaurant on a late afternoon, besides the staff, which offered a nice moment to relax in this calm as Artesa Winery tends to be a abuzz with active visitors and wine club members alike.
Their mid-day menu was very simple with a limited selection of soup, salad, burgers/sandwiches and pizza. I ordered the "Soup of the Day" ($7.50) a tortilla soup. For those that follow StarkSilverCreek you will know I have a thing for tortilla soup and when I am in Loreto, BCS I order it on almost every menu. Clint, not surprisingly requested the "Kobe Beef Burger" ($14.50) cooked medium rare with a slice of Swiss. Personally, I would have gone for a cheese with a bit more kick to it like an aged cheddar.
The Kobe Beef Burger was cooked just right on a wonderfully toasted bun which was fresh and warm on the inside and slightly crispy on the outside. In a blind taste test, I am not sure we would have been able to tell the difference between this Kobe Beef Burger and say…an Angus Beef Burger but it was a juicy piece of meat. The meat was not very flavorful/seasoned which I find is more of a style preference than a reveal of a chef's skills. Select a slice of cheese with more character or upgrade to the addition of bacon, avocado or egg for $2 more and this issue would have been taken care of. The fries were thin, crunchy, never soggy. Clint of course, didn't notice any of these issues and was perfectly happy sinking his teeth into the burger.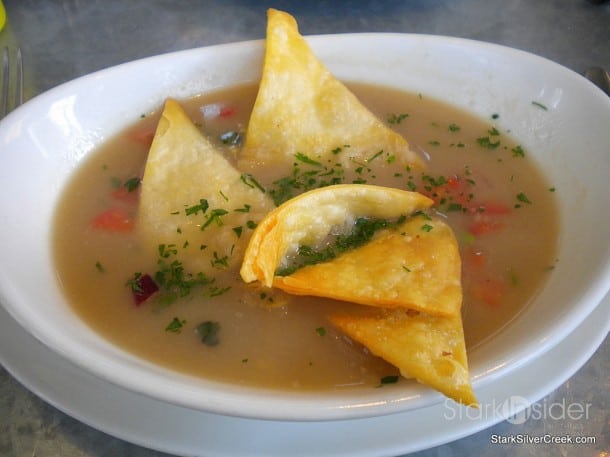 Whereas the burger was a hit, the Tortilla Soup was an absolute miss. The broth was thin, watery chicken stock. Not the rich flavorful soup that is found in any restaurant in Loreto, BCS. The tortilla and the cheese were the only decent part of this dish. The avocado was fresh when you actually found a piece. The chicken was tough, chewy and bland. The combination of all these ingredients was a bowl of something that I would only use the term soup lightly…and as a tortilla soup, no!
P.S. My rating of this restaurant is based on the burger we had, not the tortilla soup. Granted we only tried two items off the mid-day menu, but given there were only six items on the menu, I think we had enough to benchmark this restaurant.
Boon Fly Café
Part of the The Carneros Inn
4048 Sonoma Highway
Napa, CA 94559

Phone: 707-299-4870
Toll Free: 888-400-9000