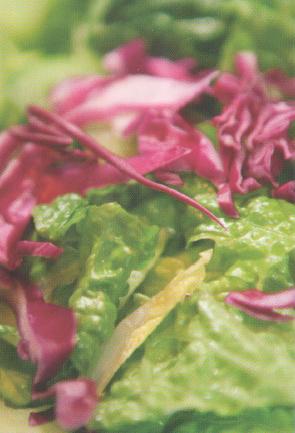 On my flight from San Francisco to Washington Dulles this past week, something was definitely different. Just before the procession of drink and snack trolleys which awkwardly lumber down the aisles, a formidable barrier to anyone needing to answer the call of nature, a flight attendant handed out medium sized card-stock sheets.
Oh la la! Qu'est que c'est? Imprinted in brown block letters on the top, were the words, "CHOICE MENU".
These cards had a selection of refreshments spanning alcoholic beverages (Glenlivet Single Malt Scotch, Maker's Mark Kentucky Straight Bourbon, Bacardi Rum, Kingfish Chardonnay, Courvoisier VSOP Cognac…to name a few) priced from $6-$9. They also had non-alcoholic beverage such as Mango Tango Odwalla Smoothie ($4) and Rivive Vitamin Water ($3).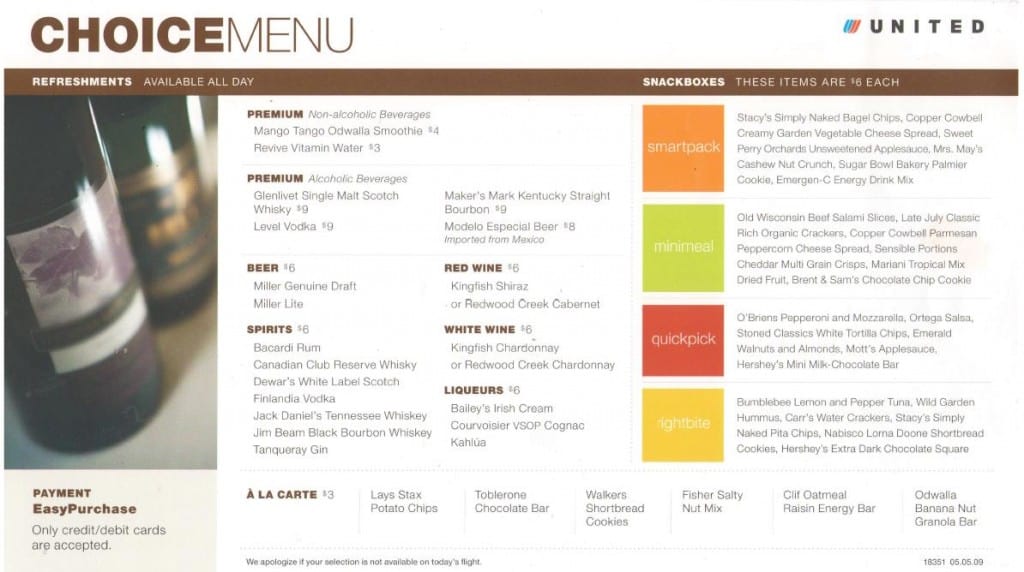 The usual Snackboxes (smartpack, minimeal, quickpick, rightbite) were also on the menu for $6 which is a $1 increase from the last time I've traveled on United. Perhaps they think that this snazzy menu card warrants price increase? There also seemed to be some trendier new additions to their snacks ($3) which now include Clif Oatmeal Raisin Energy Bar and Odwalla Granola Bar.
I'll admit what really got me excited was seeing the selection of three types of salads (Asian Chicken, Chicken Caesar and Spinach & Bacon) and three types of sandwiches. However, it was odd to see that the only fat-free dressing selection was paired with a salad that had fatty bacon in it. There was no way to mix and match salad dressings, I checked. The Asian Chicken salad was good although I thought the portion size was very skimpy for a meal they were charging $9 for. The sandwiches that I saw go to neighboring passengers did look hardier and came with a side of multigrain Sun Chips.
For those that have flown United before, you will recall that in the past, the snack, meal and beverage menu was just a spread in their magazine that was probably missed by most. It is interesting to see they have changed it up by handing out the menu, ensuring every passenger at least acknowledges it. From a psychological perspective, I wonder if there is an increase in the number of items purchased per flight. I know I did order something whereas I may not have in the past.
Currently, the ChoiceMenu is only available on flights from San Francisco to/from Denver, Chicago, and Washington Dulles.