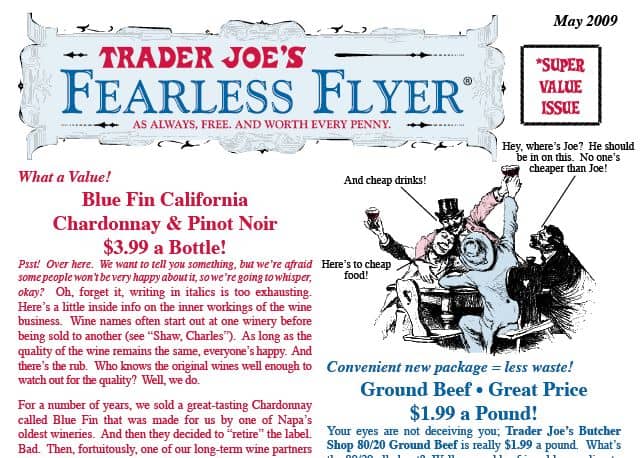 I had to laugh when I read the latest TJ's "Fearless Flyer". It looks like marketing out of the 1800s. Interesting style! In the May 2009 issue on page 8 you can read the "Top Ten Reasons to Shop at Trader Joe's"… here we go:
10. Our Legendary Parking Lots
9. We Feature Trend-Setting Hawaiin Fashions
8. Free Us of a Shopping Cart
7. Our product sections are excellent alternatives to Internet dating services
6. We have a Captain, but no Tenille
5. You can eat on the cheap, but tell your friends you're practicing "frugal chic"
4. All Trader Joe's are climate controlled for your comfort
3. No flat screens anywhere in sight
2. Our doors slide open automatically
1. What other grocery store makes you Top Ten Lists?
Got to hand it to them, they have a sense of humor! When I'm there it seems like the staff are having so much fun, really enjoying their jobs.