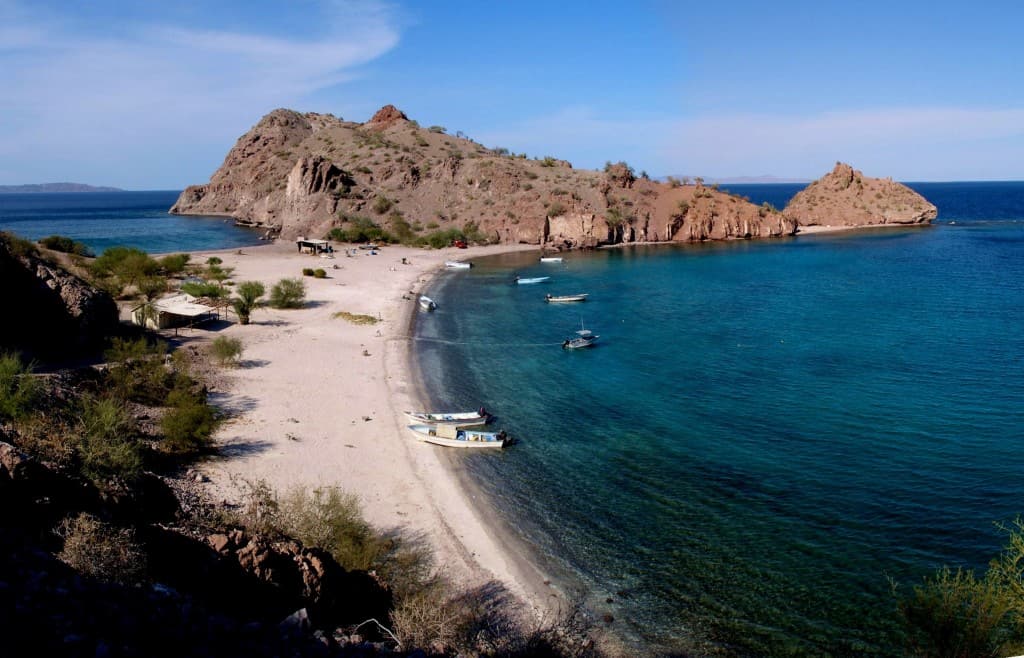 Photo by: G.M.
Yesterday marked the first day of a four day festival (April 30-May 3) in Loreto, BCS, organized by the Hidden Port Yacht Club.
The agenda for the event seems to have something for just about everyone. Instead of highlighting all of them, I thought it would be more interesting to point out the events I would have attended if I was in Loreto Baja at this moment.
So here are some of the events from my fictional itinerary.
Thursday
GPS Hiking, Scavenger Hunt: I love hiking along the dessert terrain and a little competition never hurts. This is an activity I would pull Clint into so he could operate the GPS.
Chili Cook-Off: I don't make a lot of chilli, but I have always wanted to compete in a cook-off tournament and what better place than in Loreto?

Friday

Museum de Loreto: Any change to learn more about Loreto's culture, no?
Magic Pot, "How to be a Gourmet Chef in Minutes": All gourmet cooking in one pot, can't turn down that value proposition.

Saturday

Bay Clean-up
Spaghetti dinner and dancing to 50's songs: Who doesn't get into a good mood with an injection of Buddy Holly tunes?

Sunday

Pancake Breakfast: Nothing like stacks of warm goodness to start the day
Solar: With all the sun in Loreto Baja, solar can be a very viable form of alternative energy.
Handmade Paper: What can I say, I like being crafty
Potluck dinner
Okay, enough about what I would do…
Here is the quick and dirty run down on the four days and the agenda which I've combined into one document, OCR'ed and optimized for the web. (Loreto Fest 2009 Program) What can I say, I work for the company that makes Adobe Acrobat.
Thursday, April 30th ,We will start the fest with the celebrated Annual Chili Cook Off. If you are interested in having your own chili included, please bring a big pot to share. Our dinner that evening will include the chili and an appetizer potluck.

Friday, May 1st, is our Mexican Fiesta Day. The day starts with a swap meet, so bring your treasures from the bilge or palapa to swap or trade for coconuts! We will be having a kid's carnival and local vendors will be displaying their crafts. Dinner will be a "make your own" potluck taco bar with many of the local women bringing goodies to share. We hopefully will have Mexican Folk Dancers to top off the evening.

Saturday, May 2nd will start off with the annual Bay Clean-up. There will be kid's activities again including Jim and his puppets! Tune up your motors for the annual dinghy race. Members of the Hidden Port Yacht Club will feast that evening on a FREE spaghetti dinner, courtesy of the Commodore. If you are not yet a member, you'll have opportunities to join during Loreto Fest. Dessert that evening will be root beer floats at the soda shop. The dance theme for evening is: "Blast from the Past, the 50's". Anticipate "the 50's" costume contest during the dance; prizes will be awarded. So, pull out that 50's attire and come dance the night away!

Sunday, May 3rd will start with another freebie (if you're a Hidden Port Yacht Club member), the annual pancake breakfast! The games (bocce ball, horseshoes, cards, and over-the-line) will wrap up on Sunday and the afternoon will feature a dinghy parade. The silent auction will end and the meal that evening will be a potluck affair. After dinner we will be having "The Ted Mack Amateur Hour" so bring your talent to share.
For more information, check out Hidden Port Yacht Club.