Guest post by Jane Lurie.
We were blessed by the unexpected arrival of a beautiful spirit at our home earlier this week. A 1 1/2 year old dog named Pup has been wandering the streets and fields of Loreto Bay and all of Nopolo seemingly most of his life. He has been loved by everyone he meets and given food and water by some. But he hasn't had a home of his own where he could sleep and hang out inside and feel safe from the more dangerous elements of life on the streets. He is covered with wounds from attacks from other dogs or..?? He has been hit by a car at least once, which seems to have left his hips slightly out of alignment. But nothing has touched his willingness to give unconditional love and his total lack of aggression towards us humans.
Finally it seemed that, unless some action was taken, he might not make it to his next birthday. That's when we were asked to foster him until a permanent home could be found for him. Even though we are not "dog people", we didn't hesitate to say yes. The week before he had wandered into our home one night when the front door was open. He came in crouching low and pleading with us to let him stay. He didn't enter any of the rooms off of our courtyard without our permission. We were deeply touched but unsure of what to do, whether someone would miss him if he didn't come home.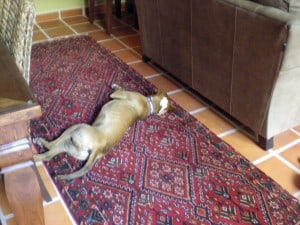 So when we heard about his situation, we welcomed him into our home. He immediately came into our living room/dining room, lay down on the rug and went to sleep. And for the next few days he spent most of his time sleeping. He was very thin and at first he wasn't eating as much as a dog his size should be eating. We discovered that he had an infection so we gave him antibiotics. That first day we went to our friends' home and he was given a bath. At first he resisted but after a while he realized that this was just another form of love being poured over him.
He took in all of the love that was offered him and gave as much or more right back. The first night, after he had just been in our big room, he found his way through the bedroom out to our back courtyard to "poop". This was just a small example of how innately thoughtful he is. One day, early on, I was afraid I had put too much food into his bowl. Forgetting that dogs don't like to be interrupted while they eat, I put my hand in the bowl between his mouth and the food, to take some out. He made a loud growling sound but nothing but his lips touched my hand. I know some dogs that might not have been so gentle.
We have had wonderful exchanges of love with him. He likes nothing better then to have his belly and head rubbed and then flop down on you and go to sleep. He followed us around during the day and at night came to the bedroom and slept on the rug there.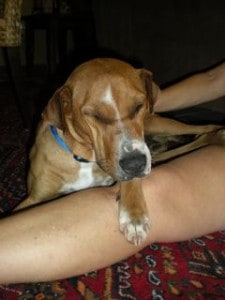 Slowly he began to eat more and more. He experienced deep rest and began to enjoy going for walks on a leash, a new experience for him. One day early on we put his leash on him to go for a walk. But he took the leash with his teeth and pulled it out of my hand and then went back to his place on the rug and lay down to sleep. He let us know that he needed rest more than he needed a walk.
After 4 days it became obvious that he was ready for the next phase in his life, another foster home with loving people, two dogs to play with and a fenced in yard. The minute he met one of their dogs, he became a frisky puppy ready to play.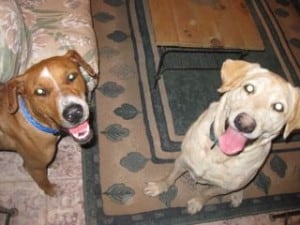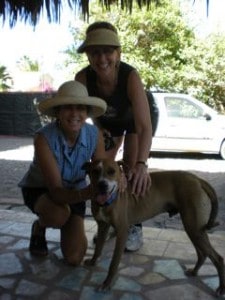 We were so sad to see him go. We will miss him terribly. We have been so deeply touched by this bundle of unconditional love. But we are excited that Pup is rested, healed from his infection and we believe has begun a deep healing from the first part of his life when he had to be on alert 24/7. And soon he will be in his permanent home. We know that his new people will quickly realize how blessed they are to have this beloved spirit dog as part of their family.
Without the help of Animalandia, we wouldn't have this wonderful story about Pup to tell. There are other wonderful dogs, with their own special stories, waiting to find their homes and families. If you are interested in supporting Animalandia or adopting one of these special spirits please contact: