Guest post by Jane Lurie.
I really love kayaking. It's the thing I most look forward to  doing when  we come here to Loreto. And those Tropic 9.0 kayaks…they are so stable. I feel like I'm on a ride in Disneyland…so I was surprised one day after we were out on the water with our friends Marsha and Chuck, to find myself wobbling side to side in my kayak. This wobbling was so out of the range of what I had previously experienced that I could not come up with an explanation for it. At first I thought  "maybe there is a giant manta ray under me and I am riding it with my kayak…or a small whale."
We were in the estuary. I had every one go ahead while I figured out what to do. The wobbling got worse and I thought I'd better rejoin the group, in case I needed help. When they were in sight I yelled to Sharon and then immediately I tipped and was in the water. Now, as a sting ray sting survivor, I am not so happy in shallow water where my feet can touch the natural habitat of the sting rays. So I performed gymnastic moves I never would have guessed I could do to keep my feet off the ground. Meanwhile  everyone was laughing so hard that Chuck could barely manage to get these photos of the event. Sharon paddled up. I grabbed onto the back of her kayak and held on to the front of mine. She paddled and I kicked and we made our way to shore.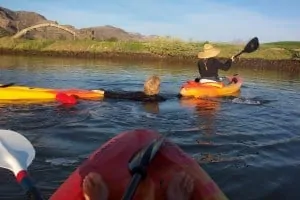 Then we tipped the kayak on end and watched for 20 minutes as the water poured out of it. The stopper had come out and my kayak had been filling with water within the plastic shell since we left shore. I was drenched but that's not a bad thing in this weather. And I knew I had another great story to tell.