Guest post by Jane Lurie.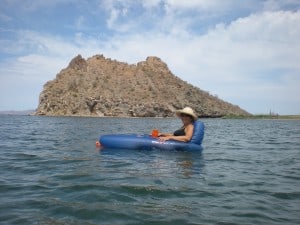 Impossible you say? Well here are some highlights:
We were up to enjoy that delicious morning air. Sharon's project was to grout the cracks on the deck. Mine was to hop on my bike and go to the gym…this is considered a job because I will be having knee replacement surgery when I get back to the East Bay. But in Loreto a trip from one place to another is never a non-stop trip. So I bumped into Dawn and heard about her diving trip. Dave walked by and reminded me about the Happy Hour at his and Kathy's place that night. By the time I finished visiting, I had to bike back home to catch Sharon up on the news. Then I went to the gym…which is the small workout room at the Inn. I went on the elliptical and watched life in the sea for 20 minutes.
Our neighborhood held its first gathering of the day at Susan, Michele and Bruce's for their specialty iced coffee, Hershey's syrup and milk. Actually, at the moment, our neighborhood is inhabited by Susan, Bruce, Michele, Sharon and me and of course Mac and Cailie, the canine personalities in the group. We tend to do enough socializing for a whole neighborhood.
Later that day we went with Susan and Ariel to the beach, brought our floating chairs into the water and floated north past the custom homes…perfect water, perfect weather, perfect company…actually if you look closely I am in the floatie that is sinking…it had never been used before and ended up with more water then air in it. So I ended up in the one Sharon had been using and she was in the water with her arms holding on to my floatie and Susan's and her feet on Ariel's. We were quite a sight as we glided by the beach and homes.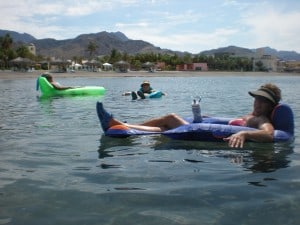 Happy Hour with Kathy and Dave – we were the first to arrive so we asked Kathy to explain the proper English way to make tea. By the time we got to the tea and boiling water meeting at just the right moment, other guests arrived. We wandered up to their tower and saw a lot of dolphins jumping and playing not that far from shore. After screaming with joy for a while, Anne, Sharon and I ran down to the beach and watched them from there. It was a thrilling sight.
From there we went back home and had our first neighborhood Loreto Bay campfire in the Place Where Someday There Will Be a Fountain. Bruce started the fire. Sharon and Michele gathered the wood and we all had a great time…reminding ourselves to have marshmallows next time. Later Anne and Tony joined us.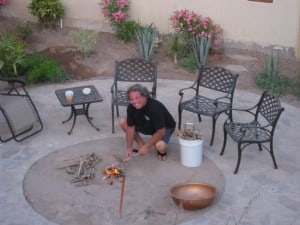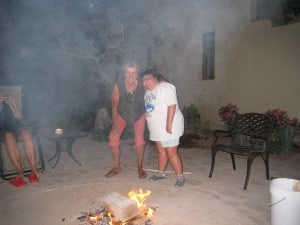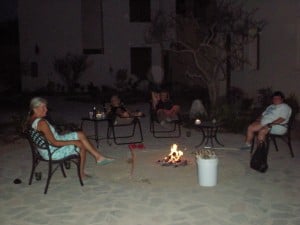 And so another surprising, thrilling, fun day in our community. You never know how a day in Loreto will unfold but you can count on wonderful interactions with friends, neighbors and all forms of life here.