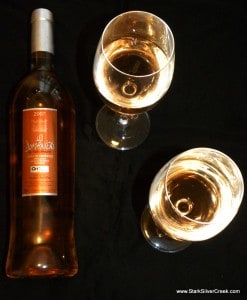 Discovered during the week at Costco for slightly under $16.00
Having lived in France on and off for eleven years and experienced many lazy Saturday terrace lunches I was happy to rekindle the memories after a few sips of the wonderful rose.
Great with charcuterie, light cheese and tomato/mozzarella salads.
You may be aware of the famous Domaine Ott Bandol Rose and while this does not approach the "Mother Wines" in terms of taste or cost it sets the table for that lunchtime petit repas.
Worth trying at the price.
Hope you like it.
PS – Clint and StarkSilverCreek staff: Love your Loreto section. You are my first to follow on Twitter
Their web site is:
www.domaines-ott.com/en/nos-vins/v_mir_domaniers.php