A while back, I had written about CreditKarma.com, a company that gives approximations on your credit scores based on the major credit reporting companies (Equifax, Experian, and TransUnion) with what they claim is a +/-50 possible differential.
I consider this latter caveat negligible if you factor in the convenience of being able to log in and with one click update your credit score and also some of the other advantages I have discovered which I will elaborate on. The service is free to the user and the company makes its money through advertising—fair enough.
So what are my thoughts on Credit Karma after three months of using it?

Well, the first month after joining I didn't visit it. Then I got an email from Credit Karma which reminded me that it had been a while since I logged in to check my credit score. This time around, I had more time to explore.
I like the "Tools & Calculators" section which includes several utilities I find useful and with the use of Adobe Flash, the output from these tools are much more insightful.
Let's take their amortization calculator. In the past, the results from such web tools would produce a boring table of values for year, interest, principal and balance. The Credit Karma interface provides this information as well, but also uses illustrative graphs to help you interpret the results.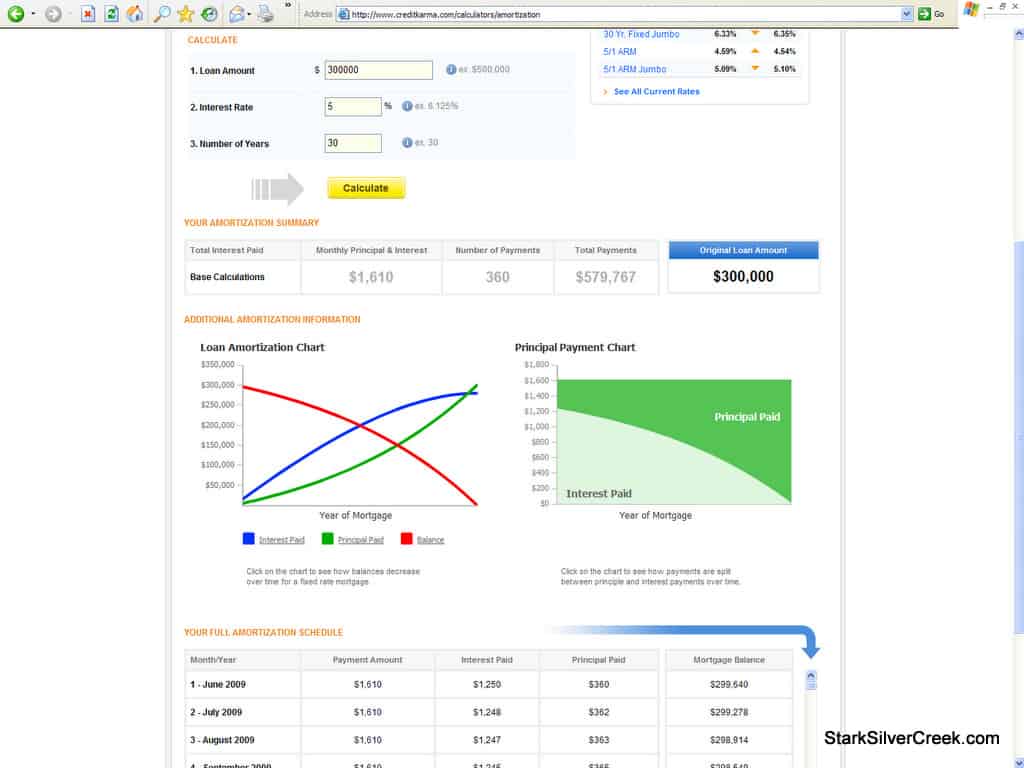 One thing the amortization calculator is missing which some others have is the ability to add "what if" scenarios of making an additional payment, paying more frequently and paying additional principal.
Speaking of "what if" scenarios, one area Credit Karma does a good job of this is simulating what certain actions you take will do to your credit score. This is done using a tool called the "Credit Simulator". It takes your score and as you enter events such as a letting a monthly account become past due by 30/60/90 days, it will report on the impact this has on your credit score.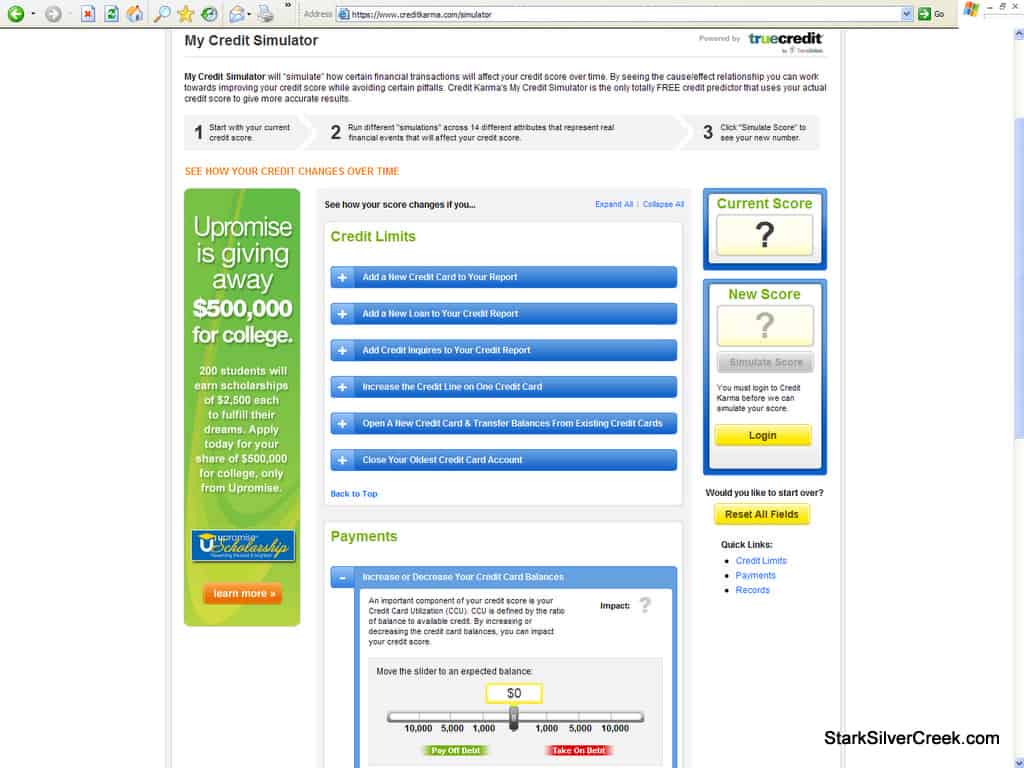 The other section that I found surprisingly educational was Credit Karma's news section. For example, an article written on January 2, 2009 entitled, "Credit Card Utilization and Average Credit Scores" examines the notion that to improve your credit score, consumers should not have credit balances close to their credit card limits. Credit Karma actually used a data set of 70,000 credit scores and tested this theory out and the results were discussed along with this revealing graph.
The moderator for any comments on these articles provide very helpful commentary.
Some of the ads are a little obtrusive, but considering the service is free and offers good value in terms of tools and information, I can't complain.
So my second, third and subsequent impressions make Credit Karma worth yet another look.