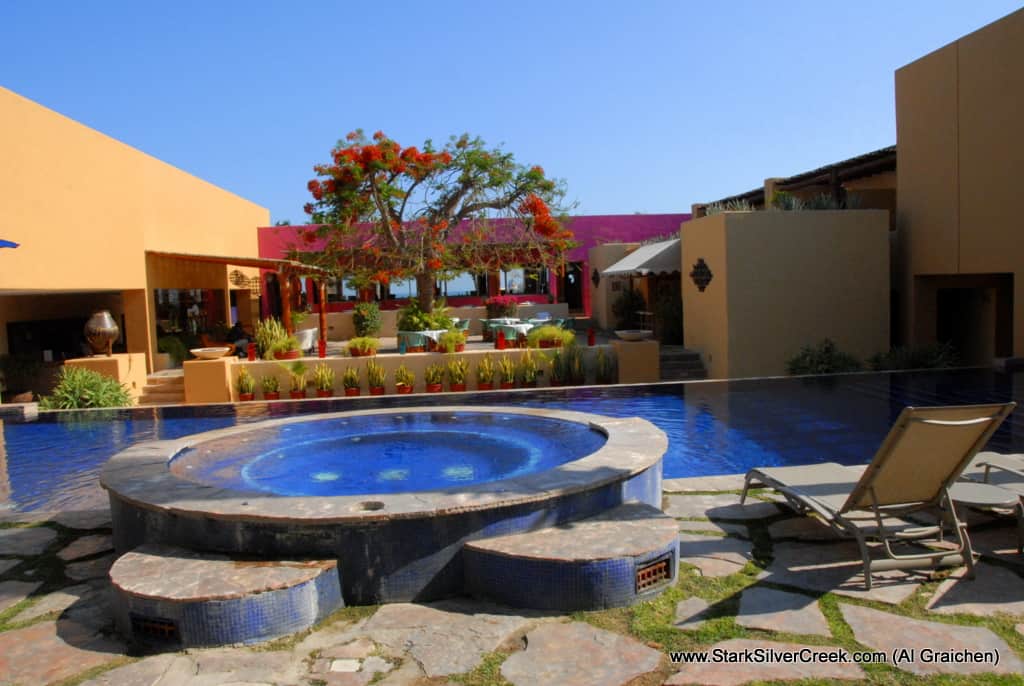 We're finally back in Loreto. It was an interesting trip this time. We thought we'd found great tickets at less than half the normal price. SFO to Cabo. We planned to stay overnight at Los Patios near Costo then drive north the next day. Budget came in with the lowest price, we THOUGHT. So the car was booked, and all was well.
Clearing customs in Cabo was even easier than in Loreto. Luggage in hand we headed to Budget. After the agent took our information, he started tapping away on his calculator and writing on the rental form. About 5 minutes later he presented the invoice for signature. LOL, it was 3 times what Tanni had thought they quoted. Turns out all OTHER rental companies included the drop off fee in the total price quoted. Budget on the other hand quoted the rental price without the drop off fee and buried that in the fine print which gets presented on the final invoice at the airport. Lesson learned, we won't be using Budget any time soon.
The drive to Loreto is 6 hours if you drive straight and have no traffic. We started with a side trip to Los Barriles about an hour or so north of Cabo. Still a "sleepy" fishing village it has in the last year just gotten it's first "mall" of stores. Some acquaintances from www.virtualtourist.com live there and we had been invited to breakfast. We met at the entrance to town on the main paved road and then headed "into town" on dirt roads. At the top of a hill overlooking town and the Sea of Cortes we landed at Caleb's Cafe.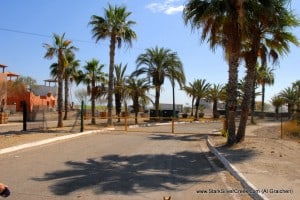 Introductions were made to the owner as we were seated. There was lots of "catch up" as our friends had just returned from 5 weeks in Europe and the owner had to find out all about the trip. Next we had to provide our story for SF and Loreto. With a town that barely has 3000 people, everyone knows everyone else. This must be what Loreto was like 15 years ago and the people that live there think it's getting too big and commercial.
A walk around Loreto this morning was in order to catch up on changes. The biggest is that Agua Viva is now a "gated community." Heh, we discovered that one while trying to drive around just to see how much AV construction had taken place in the last month since I'd left town.
The gates are to keep major construction traffic directed to AV without going through Founders. There is still a fair amount but not as much as earlier in the year. This will be a hinderance for those in AV that want to get anywhere close to their homes, but I imaging there will be a plan worked out for that as more homes in AV are finished (I'll see what I can find out this week).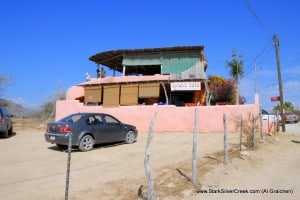 The weather is starting to get really hot. Today it was in the low 90's with higher than I like humidity. A "short" 3 mile walk at 8:30 AM and I was drenched. I think a dip in the ocean will be the remedy before it heats up as well. Wandering past the one of the Tees I noticed that the Golf Course now has hole markers. This was something that I'd heard some golfers complain about in the past. Now at least you'll know where you are on the course. Also noted were "new seed" signs laid out and looking like they were ready to be placed on parts of the course. I'm not certain where as the parts I walked were in great shape.
The Founder's pool pumps were on and the water looked just great today. The landscaping continues to look great.