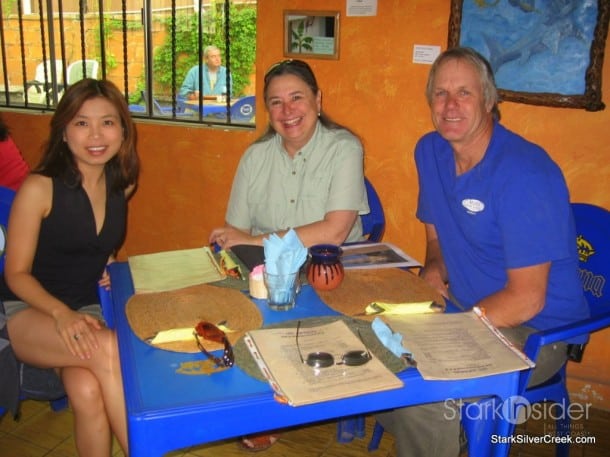 Sunday morning before we left Loreto, we met up with Marla and Kirk at Las Mandiles for breakfast. We had seen the place the night before while walking along the Malecon and had heard good things about it from Barry and Pat so we were well-primed for a great breakfast.
This was the first time we would meet Marla and Kirk in person, having only exchanged emails with them regarding Animalandia. Just as I started to worry I wouldn't find them amongst the scattered groups of people enjoying breakfast along the Malecon, Marla and Kirk reached out from the front entrance and pulled us to their square table to the right of the entrance.
The place has warm orange walls and at the far end was a wall full of celebrity caricatures including one of Michael Jackson. Amazing I thought, with all the different plastic surgery operations that star has gone through, I don't believe there has ever been a caricature of him that I didn't recognize.
Conversation turned fascinating as Marla and Kirk recounted their adventures out in the ocean, their decision to settle in Loreto many years ago and changes in Loreto over the years.
Marla Daily is a cultural anthropologist by trade. In Silicon Valley context, coming across someone of her background was a rarity indeed. She had moved down in 1985 and bought a place with Kirk in Loreto for $22K which included all the furnishings. A far cry from what most of us paid for our homes, but that was then and this is now. At the time there were only two paved streets in Loreto, Salvatore and Benito Juárez. Only about two dozen "gringos" had FM3 in Loreto, today more than 1,650 people. The more she told me, the more I drew closer, collecting facts and figures like strokes on a canvas so that I may hope to glimpse the world through the context of the locals.
The owner came around to take our orders. Needing to make a quick decision, I decided to select what Marla always gets at Las Mandiles, Divorced Eggs (70 pesos:scrambled or fried eggs bathed in red and green sauce. served with chilaquiles and beans). I figured it was a pretty safe bet trusting in her many years of experience here in Loreto. I had to smile at the name 'Divorced Eggs' and when I twittered (@lonikaostark) that I had ordered this dish, I did get a quick reply asking me what they were.
I was uncertain about the orange juice as fresh squeezed tastes like heaven and all others taste, well, artificial. I took a quick sip of Clint's and decided I wanted my very own large glass of it. It was the fresh squeezed kind that involved taking oranges, slicing them in half and extracting the juice just before it is poured into a glass, had a nice balance of pulp too.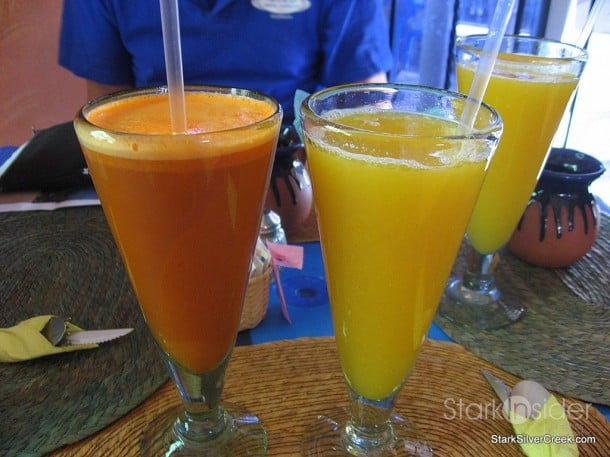 Before our dishes arrived, a basket of warm bread was presented with little dishes of butter and jam. The jam had a homemade feel with rustic wooden spreaders pushed into the center. I spread a little butter and jam and bit into the crunchy fresh bread and had to remind myself not to fill up on bread.
Our dishes came, I had ordered my eggs like Marla's, sunny-side up. The egg yolk when broken mixed nicely with the red and green sauces and what I couldn't get onto my fork, I used a piece of bread to soak up. The meal was very comforting.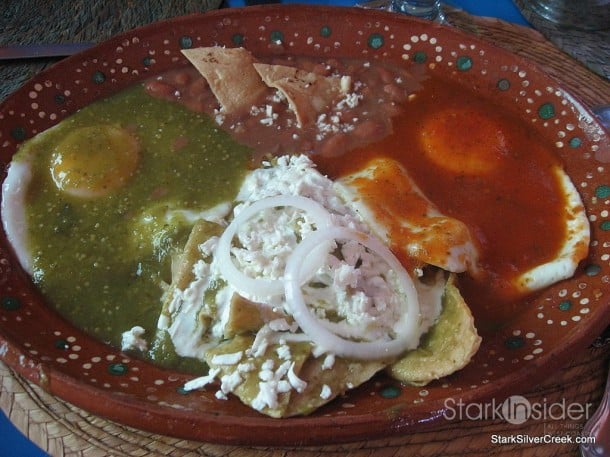 However, what completely took me by surprise was the carrot juice. I looked curiously over at the carrot juice that Marla ordered and she generously offered me a sip. I was tentative as the last memory I had of carrot juice was worse than my last sip of artificial orange juice. I braced myself for a polite, "That's interesting." statement which I use when tasting lackluster wines.
Sip…it was so delicious. It was logically what one would think carrot juice would taste like if you took fresh carrots, ground it down and strained away the pulp. However, it took being in Loreto at Las Mandiles to show how delicious carrot juice can be in all its simplicity.
Rating: 4/5