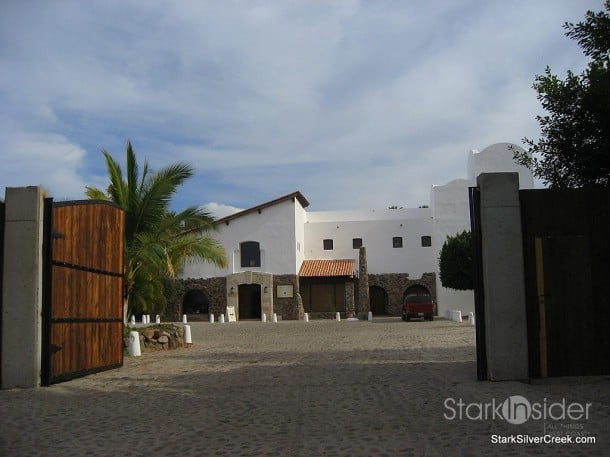 As Clint and I approached the Loreto Bay development, we saw signs and flags inviting us to check out the JW Marriott Residences Loreto development. Unfortunately, the lure of seeing the construction progress of our Casa del Lagarto Azul (Lot #25 in Agua Viva) was even greater.
However, we did take a quick detour, peeked beyond the gates that led to the JW Marriott Residences Loreto Discovery Center (now is that a mouthful or what?) and made a note that we needed to return. What we saw during this drive by was a white, airy building detailed with dark woods and stone and surrounded by lush vegetation. Quite the mirage against the surrounding dust and dirt familiar to a construction site.
Return we did. We met up with Laurie Sanborn, a sales associate for JW Marriott Residences Loreto, who gave us a tour of the discovery center which had a very realistic scaled model of the development, a sample model of the kitchen and great room of a typical unit, and even the restrooms show the back-lit counter tops that will be in the bathrooms in the development. I was impressed with the quality of finishings on display from the extra thick granite counter tops, to the substantial looking light fixtures and the premium gas stove and wine cooler.
The discovery center is supposed to be torn down at the end of its useful life as a showcase which I was surprised to hear. It is a beautiful setting that would be quite desirable as someone's home.
For those of you that have not made it out, as usual, we have enough photos to give you a true taste of what the entire abode looks like. Enjoy!