This week two large banks made some noise.
San Francisco-based Wells Fargo announced "record profits" of $3 billion in the first quarter on Wall Street, lapping analyst predictions.
Manhattan-based JPMorgan Chase staked its new presence on the West Coast with an uptick in a branding campaign after taking over 192 former WaMu branches in a purchase from regulators after WaMu collapsed. This involves changing a look of the branches to a more traditional style, radio ads talking about how they were around even before radio existed, and this sign…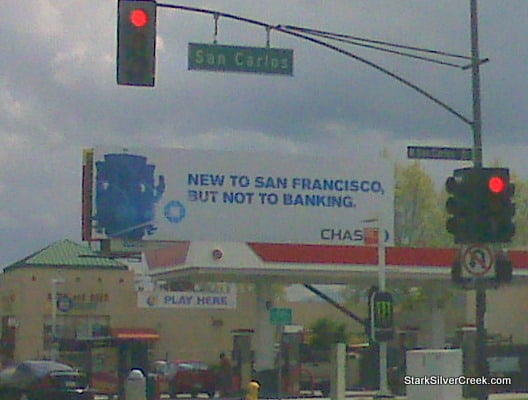 …while driving home from Adobe today. All fine, except I wasn't in San Francisco, I was in San Jose. Minor details.
More important question is after Wells Fargo earned record profits, does it plan to give a bit of the $25 billion it got from the US Treasury Department (aka. you and me) back?