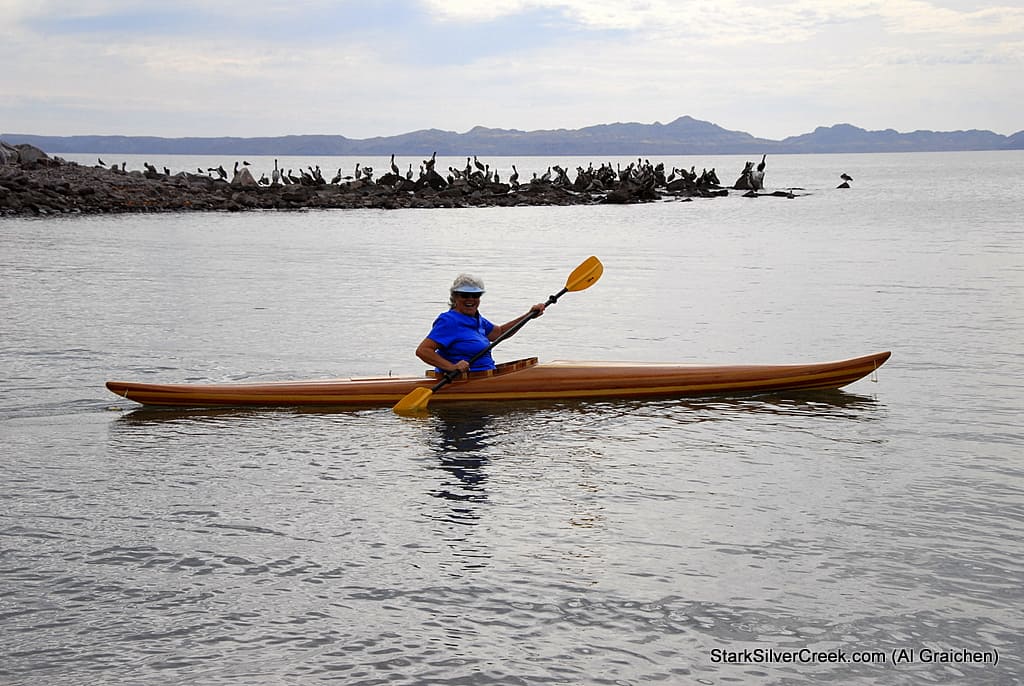 It's hard to believe I've been in Loreto a month already. It seems like it was just yesterday that I was waiting in line for my bags to be hand carried into the terminal now that the (not open yet) new terminal has the automatic baggage loader.
Today the clouds came in but it was still getting pretty hot by 10:00 AM which was the inaugural launch of Liz Simoneau's HAND BUILT kayak. Liz and Jim have spent countless hours constructing, sanding, painting, more sanding, more painting to create this beautiful water craft. Their planning paid off, Not only did it float without issue, it didn't even leak on its maiden voyage around the estuary.
Meanwhile back on the Paseo, with the new parking regulations in effect, more work was underway to paint one-way signs and to remove the barrier that prevented people from getting out of the parking lot once they had driven in. Minor adjustments this morning had traffic once again flowing.
Excavation of the planting areas along the Paseo continue to move north. A bucket loader spent the day moving old debris laden dirt away from the planting areas and dumping planting soil in its place.
The Inn had quite a few families at the pool this afternoon. At one point I counted at least 18 children romping in the pools. The Founder's pool is getting some use. However it's still not very clean and the recirculating pumps/filters are not working all the time. Perhaps along with the opening of some amenities at the Golf Club, the pool begin to get more attention.