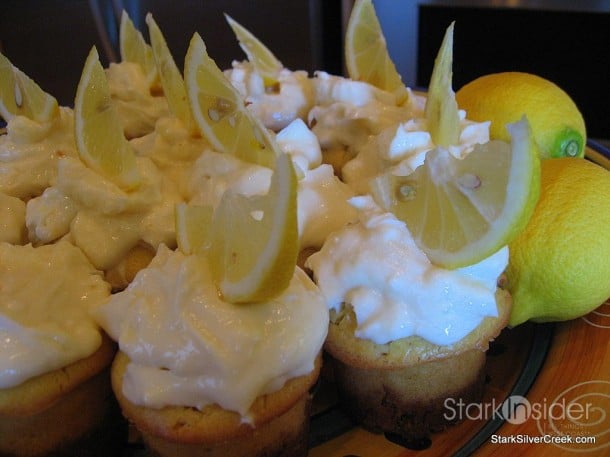 The onslaught of lemons from our prolific lemon trees, gave me great motivation a couple of weeks back to create a recipe that would use up some of those lemons for the dinner party at Debbie and Dom's place. Because it was my attempt to turn my thoughts of lemons into dreams rather than a nightmare, I call these my "I dream of lemons" Lemon Dream Cupcakes.
These heavenly little desserts are a combination of three of my favorite elements:
A thick graham cracker crust. Who could resist a compact goodness of graham cracker, butter and brown sugar? My absolute favorite foundation to any cheesecake, it would now support this dream dessert.
A rich and moist lemon pound cake. I love light, airy cakes as well but to stand up on top of a robust graham cracker crust, only the denseness of a true pound cake would do. The tartness of the lemons give a wonderful dimension to this dessert.
A creamy cream cheese icing that sits on top like a fluffy cloud. Cream cheese icing is my favorite on a nice thick piece of carrot cake.
You can bake this in a cupcake pan with paper lining so that the crust and the cake hold together when you remove the cupcakes, or get a pan with removable bottoms.
Graham cracker crust
1 1/2 cups of graham cracker crumbs
6 tablespoons of butter (unsalted)
1/4 cup of brown sugar

In a small sauce pan, on medium low, melt the butter. Mix the graham cracker crumbs with the sugar and pour it into the sauce pan. Gently mix together with a spoon until all the butter is absorbed.

Spoon the mixture into the cupcake molds, dividing the mixture evenly across the 12 cupcakes. Use a thumb and compact the mixture so it evenly covers the bottom of the pan.
Lemon pound cake

1 1/2 cups of all-purpose flour
1 teaspoon baking powder
1 cup of unsalted butter (yes, it is a pound cake)
1/2 teaspoon of salt
3/4 cup of sugar
4 eggs
3 teaspoons of vanilla extract
1/3 cup of lemon juice

Preheat oven to 350 degrees Fahrenheit.

In a mixer cream butter and then add the sugar. Once sugar is fully incorporated, add eggs gradually and then the vanilla.

In another bowl, combine flour, baking powder and salt.

Mix the dry ingredients gradually into the wet mixture. Add lemon juice and mix until smooth.

Pour the mixture over the graham cracker crust.

Bake in oven for 45 minutes or until the cake is done.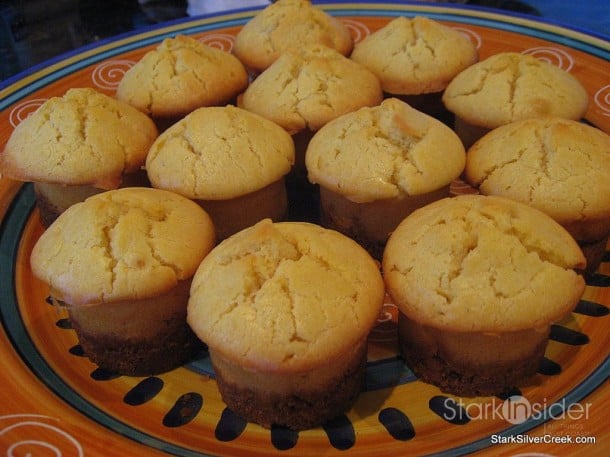 Creamy cream cheese icing

8 ounces of cream cheese at room temperature
1/2 cup softened unsalted butter
1 teaspoon vanilla extract
2 cups confectioners' sugar
2 tablespoons of lemon juice

In a bowl, cream together butter and cream cheese until fully combined. Stir in vanilla extract and lemon juice. Add confectioner's sugar gradually and mix until mixture is smooth and firm. If you want the icing to be thicker, add a little more confectioners sugar.
Once the cupcakes come out of the oven, let them cool. Then decorate them with the cream cheese icing. I even put a little wedge of lemon for decoration.
If you really want to be decadent, serve with a scoop of vanilla gelato and sprinkle some lemon zest on top.
They will be the hit of any spring dinner and have everyone dreaming of 'I dream of lemons' Lemon Dream Cupcakes.