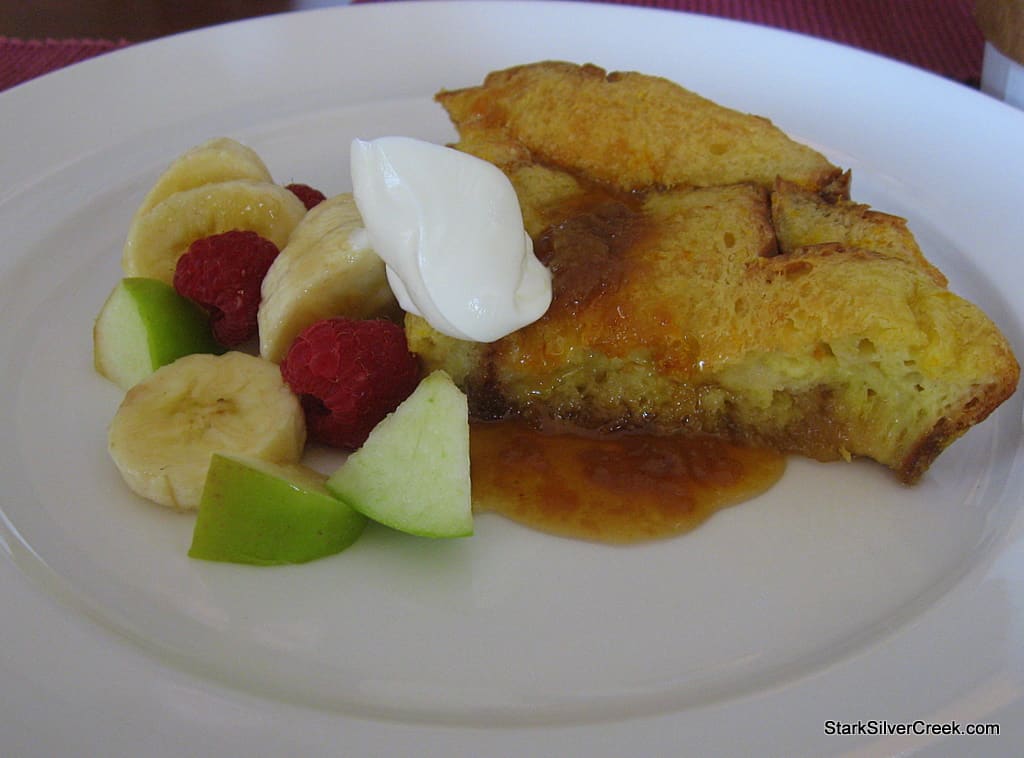 Before we dive into this heavenly and decadent dish that is sure to please anyone for breakfast or brunch, let's review the components of this dish.
On my left, 'Crème Brûlée'. This concoction of a rich custard foundation topped with caramelized sugar has been traced back to François Massialot's 1691 cookbook. One of my favorites on dessert menus, I like mine smooth, rich and creamy with a very thin caramelized sugar top. Never thick and definitely not torched past a dark mahogany brown. Although I have had my tastings of crème brûlée's spanning many interesting and unusual flavors, classic is my preference.
On my right, 'French Toast'. A popular breakfast food found in North America, Europe, Bermuda and Brazil, it involves dredging slices of bread in a beaten egg mixture of eggs and milk. I often add a kiss of vanilla and a dash of cinnamon. The egg-coated bread is then placed on a griddle heated to medium until the egg is fully cooked through, flipping them once over. Like waffles, these little pillows of goodness can be served with anything your heart desires from savory meats to maple syrup, whipped cream, and fruit. Over the years, I found you can vary the texture and characteristics of the french toast by using different types of bread. One time, I even used hamburger bread after I had sold Clint on the idea of having french toast in the morning and then discovered to my horror I only had hamburger buns. I used them seeing what the verdict would be. The result was a very light and delicious version of french toast, the little sesame seeds also added character.

Combining these two favorites into a creation to be consumed first thing in the morning almost makes one feel like a kid again. This dish does need to be prepared the night before which requires some planning. However, you will be grateful in the morning when all you have to do is pop the dish into the oven.
So where do we start?
'Simply Divine, On Cloud Nine' Crème Brûlée French Toast

1/2 cup of butter (1 stick)
1 cup of light brown sugar
2 tablespoons of maple syrup
6 slices/pieces of bread (if you want to be really decadent try using Brioche)
5 eggs
1 1/2 cups of heavy cream
1/4 teaspoon of salt
3 teaspoons of vanilla extract
1 teaspoon of Grand Marnier
1/4 cup of light brown sugar
1/4 cup of sugar (mix 1/4 teaspoon of vanilla extract into it)
1. Coat your favorite baking dish with some butter and a light sprinkling of sugar.
2. Combine the butter, cup of brown sugar and maple syrup (first 3 ingredients on the list) into a sauce pan and melt over medium heat, stirring frequently.
3. Pour mixture into the baking dish
4. Arrange the bread on the bottom of the dish so they fit snugly.
5. Whisk the eggs, cream, salt, vanilla extract, and Grand Marnier in a bowl until thoroughly mixed and pour over the bread. Make sure all the bread is covered.
6. Cover the dish and store in the refrigerator for 8 hours or overnight.
7. The next morning, heat the oven to 350 degrees Fahrenheit.
8. Sprinkle the 1/4 cup of sugar and 1/4 cup of brown sugar on top of the layers.
9. Bake for 40-45 minutes or until the top is golden brown.
Makes enough for 6 servings or 4 generous portions.
When we had it in Tahoe, we served it with some whipped cream and berries. You can also alter the recipe by putting a tablespoon of orange juice into the egg mixture and sprinkle of orange zest on top in step eight for a citrus-y 'Simply Divine, Cloud Nine' experience.
Nine simple steps to 'Cloud Nine'.