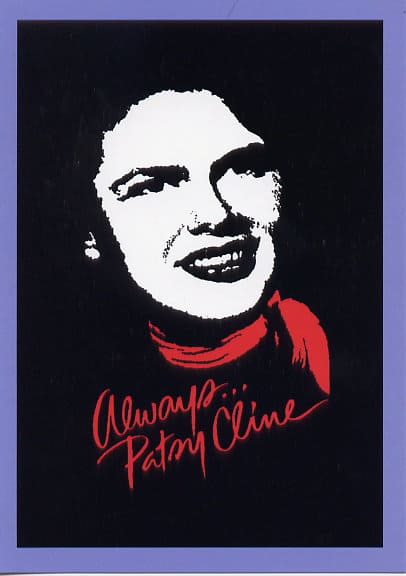 This musical is about a slice of Patsy Cline's life as seen through the eyes of Louise Seger, a flamboyant and humorous fan of all things Patsy Cline.
The band of five and a cast of two, Judith Miller and Marie Shell, took full advantage of the intimate setting of the San Jose Stage Company. Miller and Shell connected early on with the audience by appearing from a back door of the venue, rushing past the audience seating area, which only holds a couple of hundred, to the stage which is at the same level as the first row.
All of a sudden, Patsy Cline (Miller) was performing in front of a fictitious audience at the Grand Ole Opry somewhere beyond the backwalls of the real stage, and I was hidden in the darkness back stage. This is the second play I have seen at the San Jose Stage Company that uses this effect tremendously well.
Judith Miller delivers a solid and believable performance of Patsy Cline singing many of Patsy's classics with conviction. Whether you are a fan of Patsy Cline or not, you will be toe-tapping in no time. I was also amazed with the number of wardrobe changes in the entire play, which provided visual interest for those that may not be in Louise Seger's caliber of "super fans".

The strongest performance and role though was by Marie Shell as Louise Seger. Throughout the play, she is able to inject very human and devilish humor that had the whole audience laughing knowingly. Some of her funniest moments were the dance moves she broke out into while Patsy Cline was singing.
Overall, the cast of two put their hearts and souls into this production and delivered an energetic performance that lit up the entire venue.
From a playwright perspective, I think the role of Patsy Cline could have had more dialog so that the audience could get a perspective of Patsy Cline beyond her music. By the end of the play, I felt a greater connection with the character of Louise Seger than Patsy Cline, who still for the most part, remains a star to be admired from afar. We catch glimpses of the human side of Patsy, but more of that side could have been explored to heighten the impact of the moment when it is announced that she has died in a plane crash.
There is nothing that can be compared to live music and the band delivered, providing the solid foundation that supported the small cast of two.
Overall, this musical provides a fun, toe-tapping, butt-swinging  trip down memory lane.
Clint says:

What happened to the good old days, when every rising music star would get killed in a plane crash, and, then, enjoy posthumous sales success?

Patsy Cline is another famous member of this dying-too-young club that includes Ritchie Valens, Buddy Holly, J.P. Richardson, Jim Reeves, Otis Reding, Jim Croce and even some recent entrants including Ricky Nelson, John Denver and Aaliyah.

Her grave reads: "Death Cannot Kill What Never Dies: Love". Well, let me say some women have an odd way of demonstrating "love".

Patsy Cline was a typical love struck, heart-crushed, angst ridden, depressed, sad, angry and demon hunting country singer. She was married, but, man, how could her husband relentlessly endure day-after-day of unwittingly inspiring her lyrics. Hey honey, here's my new song inspired by you, let me sing some for you, "I fall to pieces…" and, then later that day, "Crazy…".

I wouldn't be surprised if most of the men in last night's show were partially towed and tugged by their starry-eyed spouses. I mean, come on, this woman's perspective seems a little one sided, no? But then again, I think that's the appeal and why her songs and lyrics famously endure.

This show is very good; pure and simple entertainment.

It's essentially one impressionist singer doing a great rendition of Patsy Cline and one actor playing her #1 fan. The duo work impressively well, and are supported by an energetic 5-man band that sit on-stage alongside the performers.

It was an entertaining two hours.

Although, again, Patsy Cline's music is not exactly bust down the doors Buddy Holly "Rave On" fun in my books, but that's just a hapless man's perspective.